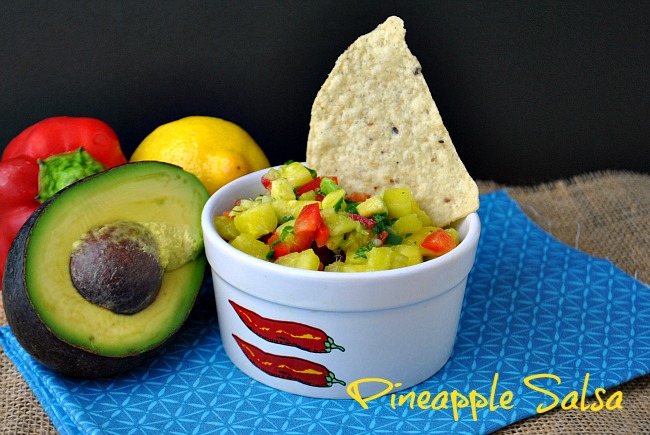 Pineapple is one of those fruits that most people enjoy so why not try it in a fresh salsa. This salsa has the sweet and savory flavors happening that so many of us love. Pineapple when ripe is so sweet and delicious but it takes on all new dimension when you add the savory onions, garlic and avocados to it. You might be wondering what to eat this salsa with, I think it would pair well with so many things like grilled chicken, fish or shrimp and pork. We ate the pineapple salsa with chicken quesadillas and they were yummy, but just eating with tortilla chips was great too. One thing I would add to this recipe is fresh cilantro but I didn't have any on hand so we had to do with out it. I hope you get inspired to try this recipe out and to come up with your own way of eating it.
Pineapple Salsa
Ingredients:
1 1/2 cups pineapple chopped small
1 T. chopped green onions
1 T. finely chopped ginger
1/2 an avocado chopped
1/2 cup chopped red bell pepper
1 T. white wine vinegar
1/2 tsp. salt optional
lemon juice from half a lemon
1 garlic clove pressed
1 serrano chili pepper chopped fine (if you like the heat leave the seeds and veins in)
Directions:
Step 1: Take a fresh pineapple and cut off the ends, then cut the sides off. The core of the pineapple should be taken out and discarded. If you have never cut a fresh pineapple try viewing this video on how to cut a pineapple which is okay, I do mine a bit differently but this works. Now cut some of the pineapple into small bite size pieces.  You will have lots of  pineapple left to eat it can also we frozen as well.
Step 2: Chop onions, bell pepper, serrano pepper and add to a small bowl with pineapple. Then add the vinegar, salt, pressed garlic, ginger and lemon juice to the bowl.
Step 3: Slice avocado in half, take out seed.  Hold the avocado with the skin on in your hand and take a small knife and make length wise cuts from end to end into the avocado but do know cut through the skin. Then cut the other direction so you have small pieces of avocado.  Take a spoon and use it to spoon out the flesh of the avocado and put into the bowl with the rest of the ingredients stir mixture lightly. Eat and enjoy.