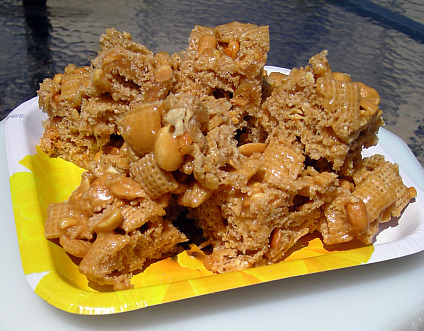 My husband loves peanut butter and I have to say it has grown on me over the years too. If you want a go to recipe for no-cook easy bar cookies then this is the recipe for you. I found this one several years back in a magazine probably Southern Living but not sure of the source, anyway it's one of the easiest sweet recipes I have. Your peanut butter loving family and friends will be praising your name for sure.

Peanut Butter Lover Squares
Ingredients:
1 cup sugar
1 cup light corn syrup
1 cup peanut butter
1 tsp. vanilla
6 cups of Chex type rice cereal
1 cup peanuts
Directions:
Step 1: Combine first 3 ingredients in a glass bowl; microwave on high for 3 to 4 min. or until melted, stirring once.
Step 2: Combine nuts and cereal in large bowl.
Step 3: When peanut butter mixture is done pour over the top of the cereal mixture and stir until well coated. Spread in a 13 X 9 in. lightly greased pan cover and chill 1 hour until set. Cut into small squares.
Serves: 24 squares if cut small.
Tip: To spread any sticky ingredients, spray the back of your spatula with cooking spray first.