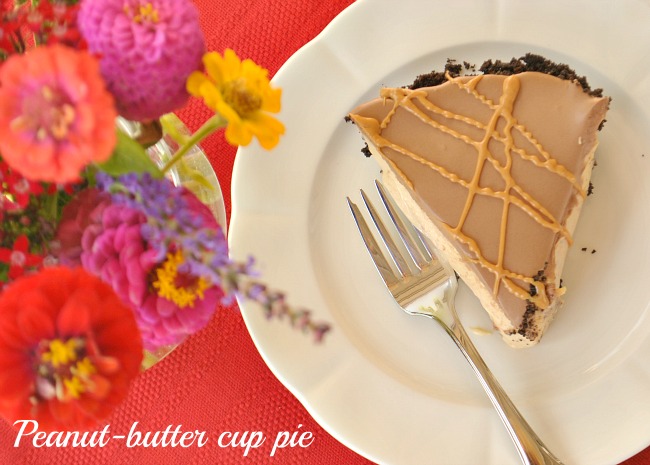 First you should know I'm currently on vacation at my parents home in CA. and when I arrived here I could tell my mom was in the mood for some chocolate sweets because she gave me a chocolate cookbook called "Baker's Chocolate, recipes for people with a passion for chocolate". Yes she knows me well.  As I flipped through the pages my mouth was watering for some fabulous chocolate delights. I picked out a few recipes and this pie is a combination of 2 recipes, I can hardly ever stick to an original recipe.
My mom and I are the biggest sweet tooth people I know. I learned all my bad eating habits from her and probably all my good ones too. One of the things we tend to do that I do not recommend for people is to skip dinner for the dessert :), of course only if the dessert is totally worth it. Well this pie is one of those worth it desserts, it's very rich and creamy, irresistible to the peanut butter and chocolate fan.But don't just take my word for it try it our yourself.
Peanut-butter Cup Pie
Ingredients:
1 8 oz. pkg. cream cheese softened
1/2 cup plus 1 T. peanut-butter
1 cup of milk
1 pkg. 3.4 oz vanilla instant pudding mix
1 cup whipped whipping cream
2/3 cup whipping cream
3 oz. semi-sweet baking chocolate chopped small
Crust:
20 oreo cookies or other cream filled cookies
3 T. melted butter
Directions:
Make the crust first:
Step 1: Crush cookies until fine with food processor or by hand in zip closed bag. Add melted butter and stir well.
Step 2: Press crust into a 9 inch pie pan until it is even and cover the whole pan, then put into refrigerator until ready.

For the Filling:
Step 1:  Beat cream cheese, 1/2 cup peanut-butter until well blended.
Step 2: Add milk and dry pudding mix to peanut-butter mixture and beat for 2 minutes. Then whisk in 1 cup of cream whipped.
Step 3: Pour filling into the ready pie crust and refrigerate.

Topping:
Step 4:   Heat the 2/3 cup whipping cream in the microwave oven or over the stove in saucepan until it is hot very hot but do not let boil. In microwave about 1-2 minutes keeping an eye on it and stirring every 30 sec.  Add chopped chocolate to the cream and stir well until all the chocolate has melted and the cream is totally incorporated. Let cool on counter top until room temperature.
Step 5: Beat the room temperature chocolate cream mixture until light in color and pour over the top of pie and smooth out the sides.
Step 6: Melt 1 T. peanut butter in microwave just about 20 second. Put the peanutbutter into a small zip seal bag into one corner, let most air out and seal. Twist the bag tight around the peanut-butter and clip a small hole in the bag with scissors. Garnish by drizzling the peanut-butter on top of pie. Refrigerate until topping is set, then serve.
Serves: 8-10