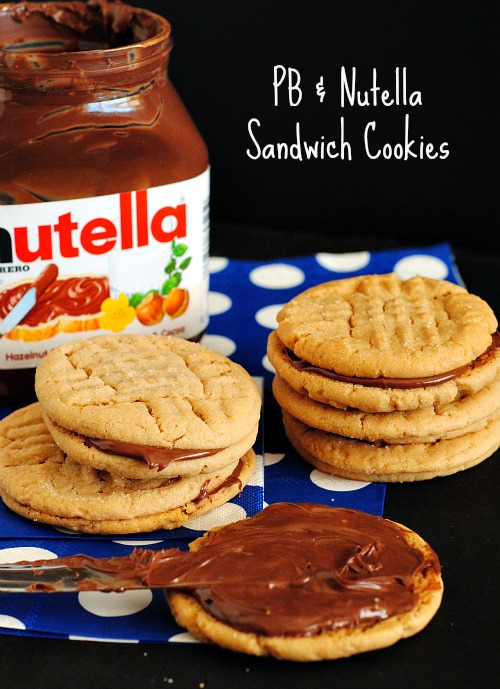 Do you ever have one of those days when you just need a cookie to help you get through it?  If only cookies could make all my problems go away for good.  Although problems don't disappear while consuming these peanut butter nutella sandwich cookies it sure doesn't hurt to enjoy a couple of these to make your day a little sweeter.
A classic peanut butter cookie gets paired with chocolate hazelnut spread Nutella and they are a match made in heaven. The recipe I used for the cookies originally called for shortening but by using butter the cookies flattened out and made them the perfect cookie to make into sandwiches. These cookies are soft and chewy but hard enough to spread nutella between. I hope you enjoy making these cookies as much as I did eating them :).
Peanut Butter and Nutella Sandwich Cookies
Ingredients:

1 cup softened butter
1 cup brown sugar
1 cup sugar
2 eggs
1 tsp. vanilla
1 cup peanut butter
3 cups  flour
2 tsp. baking soda
1/2 tsp. salt
Directions:
Step 1: Cream butter and sugars.
Step 2: Add eggs and vanilla; beat well.  Stir in peanut butter; mix well.
Step 3: Combine flour, soda, and salt.  Slowly add flour mixture to the creamed mixture until all combines.
Step 4: Roll into small balls place on cookie sheet and flatten with a fork making the crisscross pattern.
Step 5: Bake at 375 degrees for 8-10 minutes.
Makes:  4 dozen When the cookies are completely cooled just spread on side of the cookie with nutella and top it with another cookie and you have one amazing cookie sandwich.