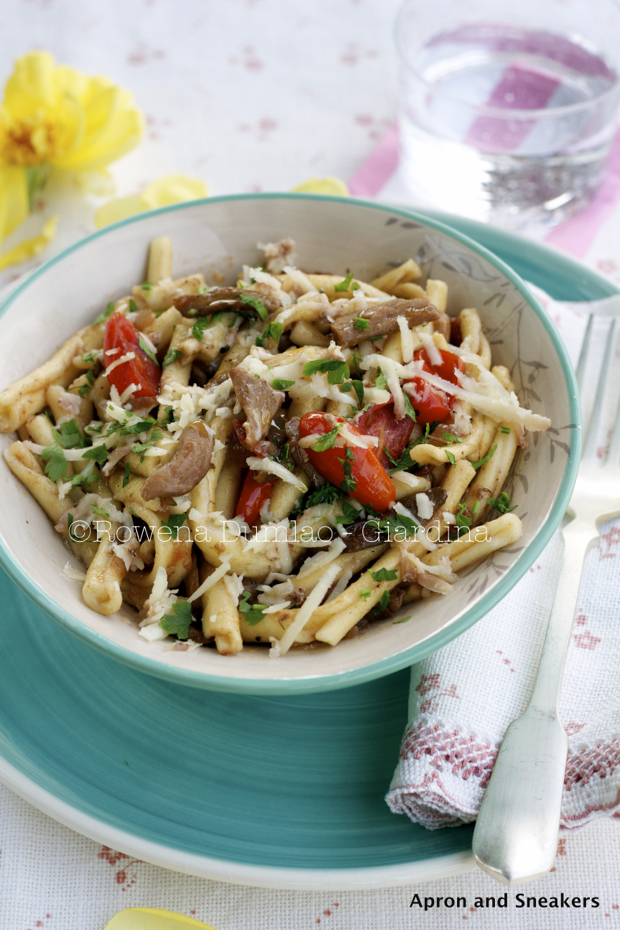 I am really excited today to introduce you to a wonderful food blogger Rowena from Apron and Sneakers! I met Rowena from other blogger friends and I am simply amazed at her talent and ability to not only create unique and appealing dishes but to also capture them so beautifully in her photos. Rowena is a perfectionist and pays close attention to detail in her recipes and food styling. Her photos lure you in and have you drooling on your keyboard. Another thing I love about her blog is all the beautiful pictures of the country she lives in and one I plan to visit soon, Italy. Rowena has a very warm style of writing and you feel like you could come over and share a meal at her home at a moments notice. I'm so happy to have her here today on YMT and hope you add her to your list of favorite food blogs, you will not be disappointed but like me will find yourself wanting to jump the next plane to Italy. Thank you Rowena, for guest posting today.
Thank you Suzanne for inviting me over to your wonderful blog.  This is my first time to guest post and I don't think there's another place to do it than in one of my favorite blogs.
To Suzanne's followers and friends, hello to all of you!  I am Rowena, the person behind the blog Apron and Sneakers.  This little space at the Internet, which I call my virtual home, is all about traversing life in Italy as a mother of two small kids after marrying into an Italian family thirteen years ago.  In every post, I share recipes, mostly Italian, taught to me by my husband's relatives, friends, strangers, the local fishmonger, the signora next to me at the market or the local butcher.   You can also find a lot of my original recipes after learning my way around the local ingredients, some from cookbooks and of course, I also have some Philippine recipes from my childhood in the country I used to call home.   My husband and I are both travelers so you will get to know a lot of Italian towns that are off the beaten track, some restaurants to try and a little bit about history.  I promise you, it's not going to make you sleep!  I built my new home with my family in Italy and I share all my experiences at Apron and Sneakers.  If you feel like visiting, just hop on over and welcome!
There's nothing more apt than to share a simple plate of pasta for this guest post.  Typical of Italian cooking, the less ingredients you put, the better it is.  So if you are thinking of putting together a pasta dish with ten ingredients, halve the number of ingredients to five and I'm sure it will come out great as well.  Less is better. Quality speaks more than quantity.  Those are the first things I learned about Italian cooking from the local kitchens to the high cuisine.  I hope you enjoy this pasta as much as we do.
Pasta with Porcini Mushrooms & Datterini Tomatoes with Truffle Oil~Guest Post from Apron and Sneakers
Ingredients:

350 – 400 g. pasta (The pasta I used is called gemelli.)
100 g. porcini mushrooms (dried or fresh)
100 g. datterini tomatoes, quartered (or cherry tomatoes)
2 cloves garlic, crushed
1/2 red onion, chopped finely
125 ml. (1/2 cup) white wine
extra virgin olive oil
white truffle oil
parsley, chopped
salt & pepper
1/4 cup parmigiano reggiano, grated (or any aged cheese)
Directions:
Step 1: If using dried porcini, soak them in a container with water overnight. Drain mushrooms and squeeze out excess liquid. Save the water where they were soaked. If using fresh porcini, take away dirt with a brush, with a damp cloth or under the tap quickly. Fill up a cooking pot with water. Add porcini. Bring to a boil. Transfer boiled porcini in a bowl. Save the water where they were boiled.
Step 2: In another pot, boil some water to cook the pasta. When it boils, add salt. Add pasta and cook following the number of minutes suggested in the package or until al dente.
Step 3: In the meantime, while waiting for the water to boil, warm up some extra virgin olive oil in a large saucepan. When hot, add garlic and onions. Toast until golden. Discard garlic.
Add tomatoes and cook for about 5 minutes.
Add porcini. Cook for about 3 minutes.
Step 4: Pour wine and put up the fire. Cook for another 5 minutes. Put down the fire to medium.
Ladle some of the water where you soaked or boiled the porcini. Season with salt & pepper. Turn off the fire when the sauce has thickened a bit. Sprinkle with parsley & parmigiano reggiano. Drizzle with truffle oil. Serve hot. Add more parmigiano reggiano if desired.
Serves: 4