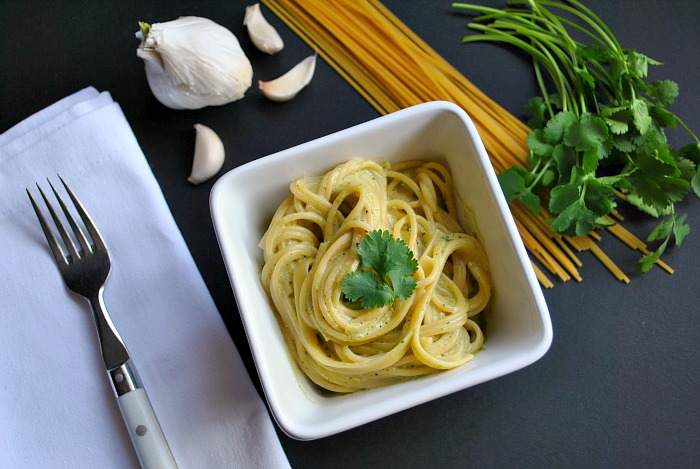 Happy Cinco de Mayo! Mexican cuisine has got to be my favorite food. I had never heard of a Mexican pasta called green spaghetti until I started searching for a pasta idea for this pasta love bloghop. I know that those of you from Mexico are thinking this green-go girl has gone crazy calling this pasta "Mexican" but it wasn't me, it was already named that by someone else. I found the recipe on a site called Half Hour Meals and I'm so glad I did. My family loved the dish, the green chile sauce is spicy, creamy and fresh tasting. Grill some chicken add a salad and you have a wonderful and not so usual meal for Cinco de Mayo or anytime of the year.

Pasta Love: Mexican Green Spaghetti
Ingredients:
1 lb. Spaghetti
2 poblano peppers
2 cubes chicken bouillon
3 tbsp. fresh cilantro (chopped)
2 Garlic Cloves
1 1/2 tsp. ground black pepper
1 1/2 cup Mexican style sour cream
1/4 cup milk
1/4 cup water
Directions:
Step 1: Cook the spaghetti noodles following the instructions of the box.
Step 2: Drizzle peppers with olive oil and broil until the skin blisters and is charred. Turn over and repeat. Color photos of the process are found in this recipe from last Cinco de Mayo.
Step 3: Put the peppers inside a plastic bag to "sweat" (for about 8 mins.)
Step 4: While the peppers are "sweating" peel the garlic cloves, chop the cilantro and … check your pasta. It should be "al dente".
Step 5: Once the peppers are ready peel the skin off, cut the top off, cut seeds and veins out.
Step 6: Now blend the roasted peppers, the garlic, bouillon cubes, cilantro, black pepper, sour cream and water in a food processor or blender until it is a creamy green sauce.
Step 7: Pour the sauce in medium size saucepan and heat on low until it starts to boil.
Step 8: Add  sauce to the cooked spaghetti, make sure all the noodles are covered by the sauce. Let set for a few  minutes until sauce thickens.
Serves:  6-8
Cook's Notes: Mexican sour cream is found in your Mexican refrigerated section of your grocery store. The main difference in Mexican sour cream and regular sour cream is the stability of Mexican sour cream. Mexican sour cream can be heated to higher temperature without curdling. Don't have access to Mexican sour cream just use regular but be careful when heating.
Here are the links to the black bean salad or salsa and the grilled chicken recipe.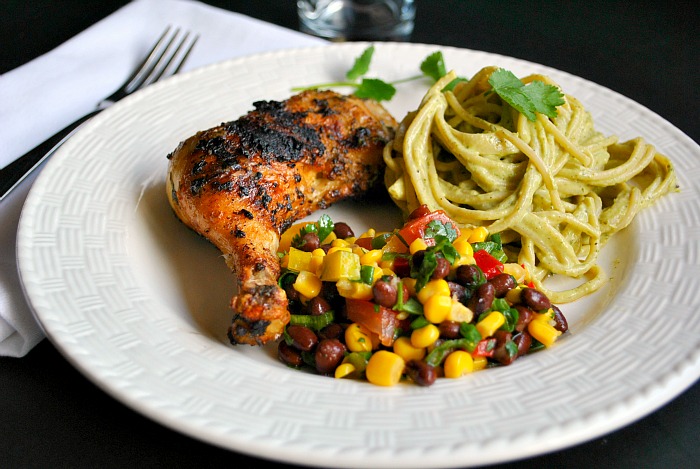 This month's Bloghop is Pasta, or Pasta Love. My co-hosts are listed below, so please go by their sites to see all the fun pasta recipes. Feel free to add any pasta dish you make and post this month using the below linky tool. Don't forget to link back to this post, so that your readers know to come stop by the #pastalove event! The twitter hashtag is #pastalove . Pastas of vegetable 'ribbons' like zucchini or carrots are counted as a pasta too, as long as it's presented in a pasta-like dish.
Pastalove Bloghop Co-hosts:
Astig Vegan www.astigvegan.com
Badger Girl Learns to Cook http://www.learntocookbadgergirl.com
BigFatBaker http://bigfatbaker.com
Bon à croquer http://www.bonacroquer.com/
Cake Duchess http://www.cakeduchess.com
Elephant Eats www.elephanteats.com
Hobby And More http://hobbyandmore.blogspot.com/
Mis Pensamientos http://juniakk.blogspot.com
No One Likes Crumbley Cookies http://tcrumbley.blogspot.com/
Oh Cake http://cake-o-cake.blogspot.com/
Rico sin Azúcar http://ricosinazucar.com
Simply Reem www.simplyreem.com
Soni's Food for Thought http://sonisfoodforthought.blogspot.com/
Teaspoon of Spice www.teaspoonofspice.com
The Spicy RD www.eastewart.com/blog
The Wimpy Vegetarian http://thewimpyvegetarian.com
Vegetarian Mamma www.vegetarianmamma.com
You Made That? http://www.you-made-that.com/
Vegan Yack Attack http://veganyackattack.com