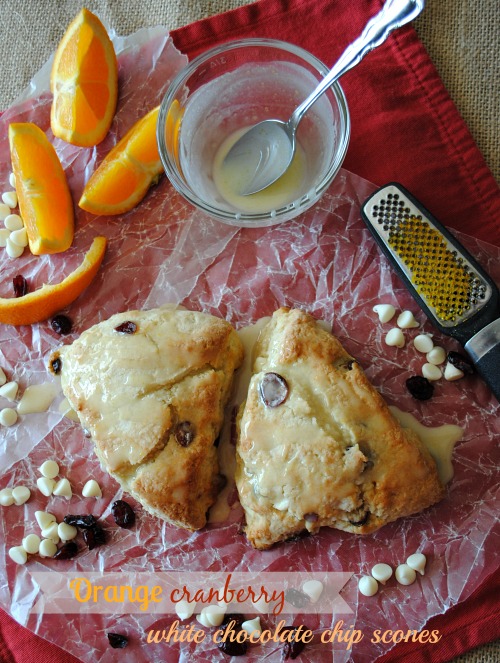 Scones, scones how I love thee! I crave scones on a regular basis but don't make them as often as the craving hits because I do try to maintain my weight 🙂 . The holidays are here and I love to use cranberries in my baking so I couldn't resist putting these flavors together. Oranges are especially good this time of year and that bright citrus tastes goes so well with cranberries. These scones tasted really good and hit the spot for that craving I was having. These scones would make a great Christmas morning breakfast or brunch since you can make them ahead of time, up to the dough and cutting into the triangles stage, then put them into the freezer. When ready to bake just pre-heat oven and bake until golden brown, so simple! But don't forget the glaze it's a must have.
Also for a quick update on my life/blog/year, I haven't posted a recipe in 6 months or so because I have been going through a divorce this whole year and with that comes a lot of changes. I have been a stay-at-home mom for 20 years and married for 25, and that status has changed to part time working mom and full time student. My desire for cooking has dwindled with my family not being traditional now. I haven't had the desire to cook or blog or had much time to do either. I know that when my life slows down and I have more happiness than sadness in my life I will do the things I like to do again and just my writing this post says that happier days are climbing above 50/50 now :). I'm not writing these things to make you feel bad for me, it's just "life" and "it is…what it is." I've been learning and growing much more than I thought possible this year and that much growth is a tad bit painful, like when you are a kid and your legs hurt from growing pains. I have no doubt that "better things are ahead"(sorry for all the trite sayings here, but they seem appropriate) and I'm looking forward to that. As for my schooling in case you are interested, I am going to school to become an occupational therapy assistant. I'm very excited about this new career path and can't wait to help others in this way, I hope it really suits my desire for work fulfillment.
I hope that everyone enjoys the holidays with family and friends as I will be doing. I may have a few more recipes to post on here since I will be out of school for 6 weeks! Enjoy life it passes much to quickly.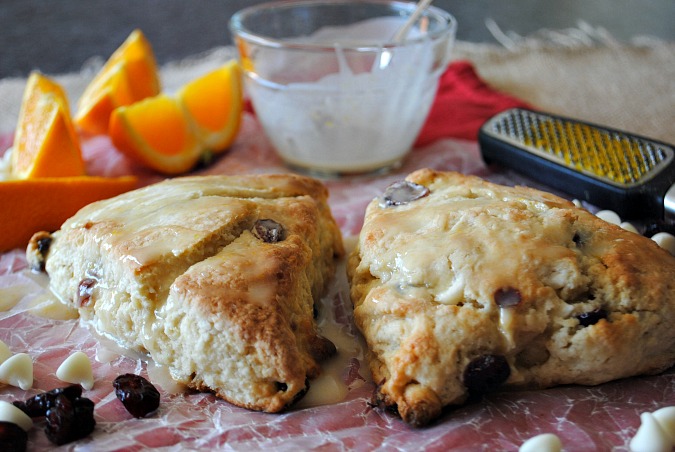 Orange Cranberry White Chocolate Chip Scones
Ingredients:
1 Tablespoon fresh lemon juice
zest of 1 orange and juice
1 cup half and half
3 1/2 cups all-purpose flour
1/2 cup sugar
1/2 tsp salt
4 tsp baking powder
1/2 tsp baking soda
3/4 cup unsalted butter cold, cut into chunks
1 large egg
2 tsp vanilla extract
3/4 cup dried cranberries
2/3 cup white chocolate chips
Directions:
Step 1: Put lemon juice in 1-cup measuring cup, pour in half and half to 1-cup mark, and let stand a few minutes to make soured cream. Put the cranberries in the juice from the orange to plump them up.
Step 2: Pre-heat oven to 400 degrees, line a cookie sheet with parchment paper or silicone mat.
Step 3: In a food processor put cold butter cut into chunks, then flour, sugar, salt, baking powder, baking soda and turn on until the butter is in small beads.
Step 4: Add egg and vanilla and turn on food processor then add soured milk until the dough forms into a ball.
Step 5: Turn dough out onto a floured surface and knead in the drained cranberries and white chocolate.
Roll dough out into a circle and cut with a pizza cutter like a pie. Put the scones onto the baking pan and pop into freezer for about 1/2 hour or over night (if you put in the freezer over night make sure they are covered with something like foil or plastic wrap)
Step 6: Bake until golden brown 15-20 minutes if straight from the freezer. If you froze the scones over night the bake time will be 20 minutes.
Step 7: When scones are down let them cool on the baking sheet while you mix the glaze up. Take 1 cup powdered sugar, 1/2 tsp. orange zest, and 1 T. orange juice, mix together with spoon or fork to make a glaze. If the glaze is too thick add a little more orange juice if it's too think then add some more powdered sugar. Drizzle glaze over the scones let cool and enjoy.