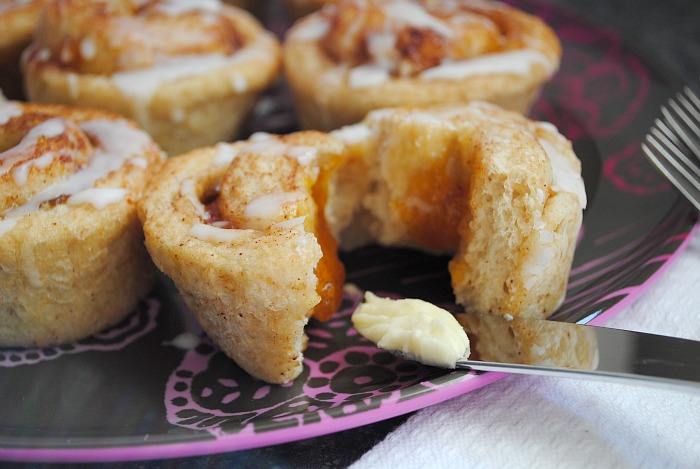 In an effort to add some nutritional goodness to sweet rolls, I came up with this healthier alternative to the all white flour sweet dough.  Oatmeal and oat bran give this dough more nutritional value and a more dense dough but not rock hard or heavy.  Instead of a cinnamon roll I got inspired from another roll I saw to put peach preserves in the middle with a touch of cinnamon sugar. When they come out of the oven let them cool long enough to put a light glaze on top. The results are lightly sweet and delicious, its like not having to put jelly on your roll because it's already there :).
Oatmeal Peach Roll-ups
1/2 cup milk
1/4 cup water
1/8 cup sugar
1 tsp. salt
1/8 cup oil
1 pkg. yeast or 2 1/4 tsps.
1/2 cup  uncooked quick oatmeal
1/8 cup oat bran or wheat bran
1  3/4 to 2 1/4 cups of all purpose flour
1 eggs
4 oz. of peach preserves or your favorite
cinnamon and sugar
1 cup powdered sugar
1-2 T. milk
Directions:
heat water  in small bowl to warm about 30 sec. in microwave and add the yeast to the water with a teaspoon of sugar, set aside and let bubble up
in another small bowl heat milk, oil , sugar and salt together until very warm about 1 minute in microwave, stir until sugar and salt dissolve.
in a large mixing bowl add all wet ingredients, oatmeal, bran and 1 3/4 cups of flour use the bread hook and turn on mixer to low or mix by hand.  If mixing by hand add the flour 1/2 cup at a time so it won't be so difficult to work with.
knead dough with mixer until all is combined well and the dough is no longer sticking to the sides of the bowl
in a medium large bowl spray with cooking spray and put dough in the bowl rolling around to cover dough with cooking spray oil, cover dough with a light kitchen towel or plastic wrap sprayed with cooking oil.
let rise in a warm place until double in size about 1 1/2 hours.
when dough has risen long enough punch down in center and roll out on a lightly floured surface into a rectangle about 1/4 in. thick.
spread the peach preserves over the top of dough and sprinkle with cinnamon and sugar
roll up starting from the long side
cut into 2 in. rolls with dental floss (tips on making rolls with filling check here)spray
spray a muffin pan or a pan with sides with cooking spray and put each roll into the pan
let rise until double
ready to pop into the oven.
bake at 375 degrees for 15 min. on the lowest rack
let cool 15 min. and transfer to a plate
mix the powdered sugar and milk together in small bowl and drizzle over the top
Makes about 18 rolls. ENJOY!