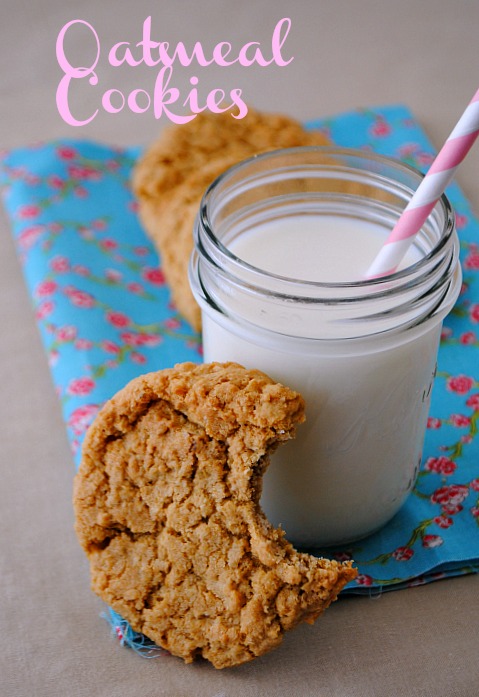 I love oatmeal cookies, their chewy texture, brown sugar taste and without nuts or chocolate chips in them.  Yes, I love them just straight up with a glass of milk.  For some reason I can eat these cookies and not feel very guilty because of the whole grains in them.  I add flax meal and half the flour is wheat, so maybe the whole grains will balance out the butter and sugar. I'm crossing my fingers on that one.  This recipe makes a ton of cookies so if you want cut it in half you can it works out great.

Oatmeal Cookies
Ingredients:
2 cups brown sugar
2 cups granulated sugar
2 cups soft butter
4 eggs
2 tsp. vanilla
1 tsp. salt
2 tsp. baking powder
2 tsp. baking soda
4 1/2 cups oatmeal
1/2 cup flax meal
2 cups wheat flour
2 cups white flour
Directions:
Step 1: Cream sugars and butter together.
Step 2: Add eggs and vanilla, mix well.
Step 3: Add dry ingredients half at a time and mix well.
Step 4: Bake at 350 degrees for 12-14 min. depending on the size of your cookie. I make mine large. Cool in pan for 5 min. then transfer to wire rack.