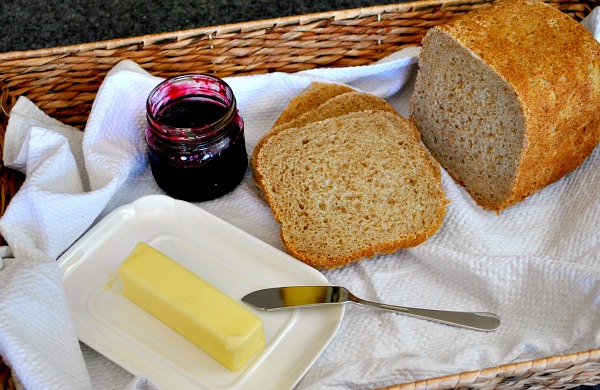 Homemade bread is simply the best and its even better when you can throw all the ingredients into the bread machine and let it do its thing. My mother-in-law is known for her homemade bread and she figured out how to scale her recipe down to her bread machine and it turns out great. The bread is soft and tender and it looks like wheat but actually it only has wheat bran in it.  Although the bread is tender it can still be made into sandwiches and because we have a large bread machine, half of a sandwich is plenty for me. We used to make this bread twice a week for our family and we never bought bread at the store, but in recent years we buy the store-bought bread, my husband prefers his mom's bread over the store any day. One nice thing about making your own bread is you know what goes into your bread and that there are no preservatives. Because there are no preservatives the bread should be stored in the refrigerator or you might have mold growing quicker than your average store-bought variety.
So what if you have a great bread recipe and want to size it to your bread machine, how do you do it? Well, my friend Paula over at Salad In a Jar has a great tutorial on how to do just that, so go and check her post out. If you choose not to use a bread machine then you can still use this recipe but remember it will only be for one loaf. Making the bread by hand would be different too, you could not just throw all the ingredients together and expect it to turn into bread like the machine. You would need to follow a traditional way of making the bread like this recipe that my friend Aubrey taught me to make.
Nana's Homemade Bread
Ingredients:
3 1/2 cup bread flour
3/8 cup wheat bran
4 T. potato flakes
4T. canola oil
3 1/2 T. sugar
1 3/4 tsp. salt
1 3/4 tsp. yeast
1 cup water
1/2 cup milk
Directions:
Step 1: Put all ingredients into the bread maker and turn on, that's it.
Step 2: When the loaf is done, pull it out of the bread machine and let cool in pan for about 15 minutes. Then turn the bread over and shake the pan a bit, let cool on cooling rack for another 15 minutes at least before you cut into it.
Enjoy warm with butter and honey or your favorite jam.
P.S. The jam in the photo will be coming soon, it is so good 🙂