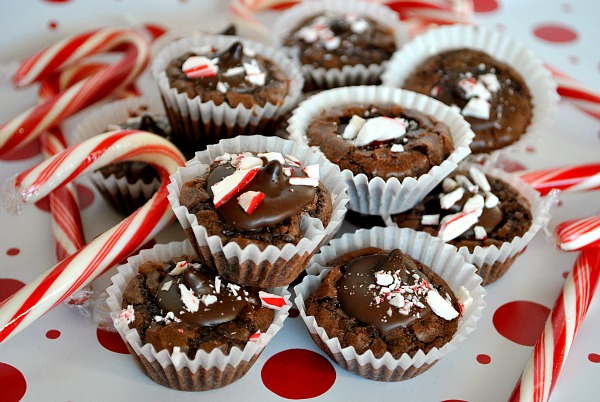 I'm loving these little rich minty bites of brownies that I just happened upon and so will you. Hersey's Kisses Dark Chocolates filled with  Mint Truffle come out during the holidays and I found out that they are seriously addicting. If you buy some mint kisses you better pick up two bags, one for the brownie bites and one for you :). There is a recipe on the back of the bag for these brownies bites but my version is simplified because I didn't have time to make them from scratch. When I am baking for the holidays I like to have a few things that taste fantastic but are semi-homemade because I'm usually doing ten things at once.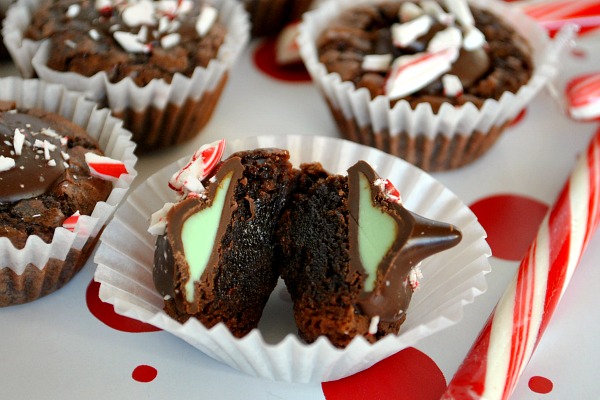 No one is ever going to know that these rich brownie bites are semi-homemade, unless you tell them that is, because they taste just as good as any from scratch brownie. Now for the part about how I happened upon these treats, well… I was at the store shopping for all my supplies for the things I was planning to bake, I strolled down the candy aisle and saw these kisses and knew I'd love them. I bought a bag then when I got home, I got to looking at the back of the bag and was excited to realize I had all the ingredients to make these brownie bite truffles but even better I had a brownie mix that would work just the same. I was putting together a huge tray of treats for the following morning so these truffles came to the rescue as something different and pretty to add to the tray of goodies. Everyone who has tried them has loved them, so I know there is no reason to worry about how they will taste. Add this recipe to your holiday baking and I'm sure you will be baking them for years to come.

Mint Truffle Brownie Bites
Ingredients & supplies:
1
18.3 oounce box brownie mix
and ingredients to make them
1 bag of
Hershey's Kisses Dark Chocolates filled with Mint Truffle
1 cup of chocolate chips
candy canes or mint candies crushed
Mini paper or foil cups
 liners
Mini muffin pan
Directions:
Step 1: Pre-heat oven to 350 degrees Fahrenheit. Mix the brownies according to package directions and add the chocolate chips to the batter.
Step 2: Put paper cups into the mini muffin pan and fill half way up with the brownie batter using a mini-scooper or small spoon.
Step 3: Bake brownies for 10-12 minutes. While the brownies are baking unwrap 48 candy kisses.
Step 4: When the brownies come out of the oven let cool in the pan for 5 minutes, then press a candy kiss into the middle of each brownie. Gently lift out each brownie with a small butter knife and let cool on a cooling rack.
Step 5: Unwrap a candy cane and put into a small sandwich bag, close tightly with the zip-loc. Crush the candy cane in the plastic bag then sprinkle on top of the brownie bites while the chocolate truffles are still warm.
Step 6: Repeat above steps until the brownie batter is all used. My mini-muffin pan has twenty-four mini cups, so one brownie mix made 48 brownie bites.