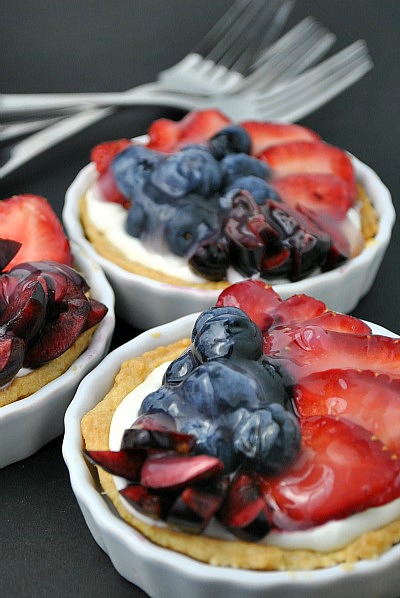 Does anyone else ever make a pie and have left over pie crust?  I do, so this time instead of tossing it out I decided to see if I could squeeze as many little tart shells out as I could. I was able to get 3 shells out of some scraps and as it turns out we loved the mini-tarts I made.  They were a perfect snack size and with a little cream cheese, sour cream, whipped cream a little sugar you have a yummy cream filling.  I used whatever fruit I had in the refrigerator and some left over pie glaze on top.  What a great treat to make with kids they could make their very own pie.  If you don't have a mini tart dishes then just make small  shaped pieces of dough and cook on a cookie sheet.  I got these baby tart dishes from one of those swap parties where people are getting rid of what they don't want and I love them, you know what they say "one man's trash is another man's treasure". I didn't really measure when I threw the ingredients together but here is the eye-ball measurements.
Mini Tarts-What to do with leftover pie crust
Mini Tart Ingredients:
leftover pie crust, I used this pie crust recipe
1-2 oz. of cream cheese
2 T. light sour cream
2 T. of granulated sugar
1/3 cup of whipped cream
fresh cut up fruit of  your choice.
Directions:
Step 1: First bake the crust in the tarts for about 20 minutes at 350 degrees or until lightly browned, and let cool completely.
Step 2: In  small bowl whisk together softened cream cheese to room temperature, sugar and sour cream.
Step 3: Stir in the whipped cream and spread the cream mixture in the bottom of each tartlet dish.
Step 4: Cut up the fruit of your choice and arrange on top of each tart.  Refrigerate until ready to eat.
To serve gently lift the crust up with the tip of a knife and eat the mini tart like a cookie.