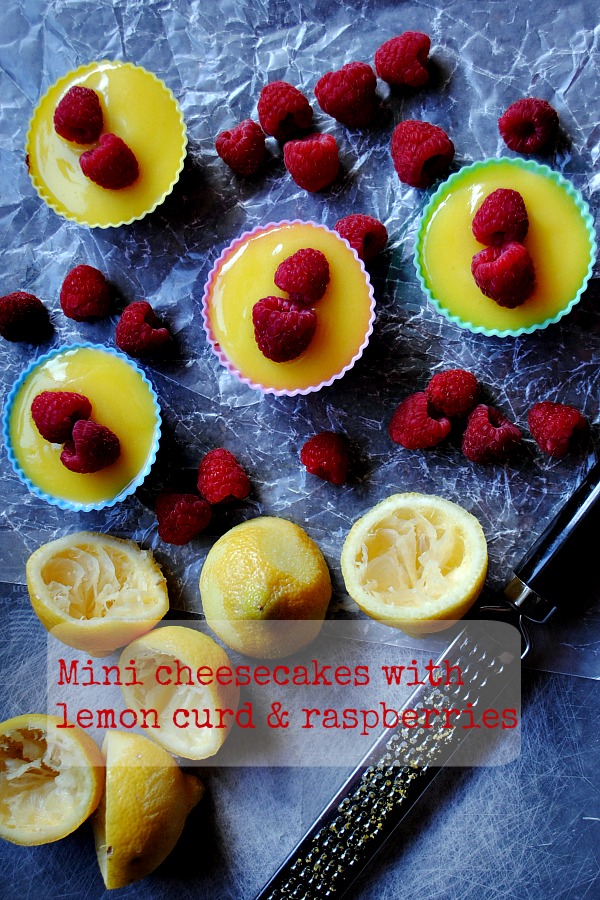 Isn't everything cuter in mini form? For example Mini Mouse, a mini saga (which I learned has only fifty words in it), Mini Cooper (such a cute car), miniature horses, mini tea set, mini beauty queens, Polly Pockets, mini donuts, mini chocolate chips, mini cupcakes, mini muffins, and finally my mini cheesecakes 🙂 . In our world of "supersize it" it's kind of amazing that we still love mini anything…but we do. We tend to say the words awe, sweet, precious, and adorable when we are presented with mini's. Although, I really don't think if I were given some mini size fries I would be pleased and say how adorable they are. I am led to believe that in our ever growing obsession with extra large food portions we still like mini things too, a perfect example are these mini cheesecakes.
Cheesecake is rich, decadent and delicious but I can only handle it in small doses. I would like to eat large pieces of cheesecake but it's almost physically impossible for me too, although a lot of men don't seem to have this problem consuming cheesecake or other rich desserts in large quantities.  My dad can eat a  large piece of cheesecake in 3 bites and chocolate fudge by the handfuls.  My mom taught me to savor rich foods while my dad taught me to inhale so you get your fair share.  It's a good thing I'm a little bit of both now and can eat my cheesecake and fudge slowly but when it comes to popcorn watch out because I tend to turn on the hoover vacuum.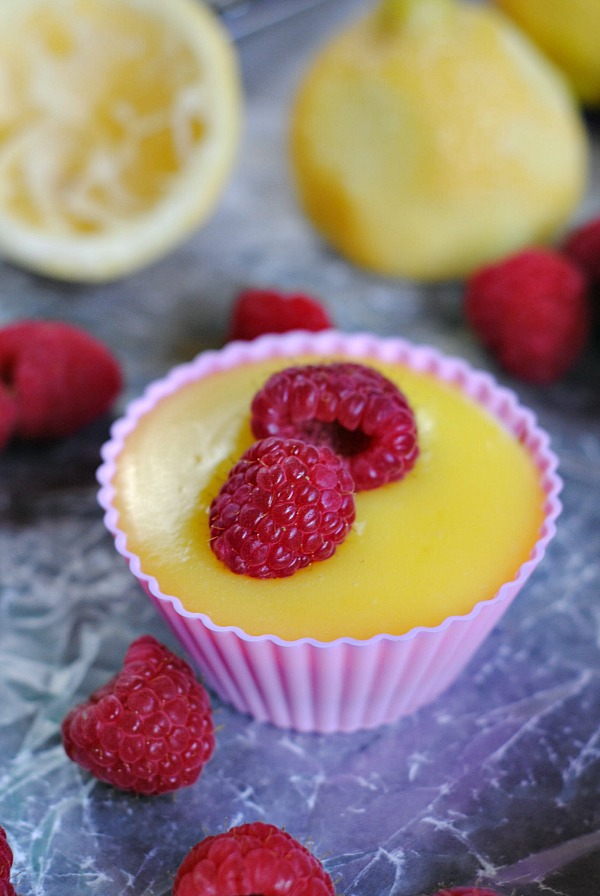 These mini cheesecakes are perfect for little people and big people. The recipe makes about 15 regular cupcake size cheesecakes and they were perfectly moist and creamy too. We love lemon curd and lemon everything at my house so I made a quick and easy microwave recipe of lemon curd and put it on top of the cheesecakes and then topped that with raspberries. Raspberries are in season now because these raspberries tasted like real fruit and not one was sour either, they were incredibly good.
Mini-cheesecakes with lemon curd and raspberries
Ingredients:
1 package graham crackers (4.90 oz.) or 1 cup finely ground
2 T. sugar
3 T. melted butter
16 oz. cream cheese softened or room temp.
3/4 cup granulated sugar
2 eggs
1 T. lemon juice
1/2 T. lemon zest
1 tsp. vanilla
15 cupcake liners preferably silicone, or foil but heavy weight paper will work too.
For the curd:
1/4 cup unsalted butter
3/4 cups granulated sugar
2 eggs
1 egg yolk
1/2 cup fresh lemon juice from about 3-4 lemons
lemon zest from 1 1/2 lemons
Directions for curd:
Step 1: Melt butter in microwave, set aside to cool slightly.
Step 2: Whisk together sugar and eggs in a medium-sized microwave-safe bowl. Whisk in lemon juice and zest. Finally whisk in the butter.
Step 3: Microwave on 50% power for one minute. Stir. Continue microwaving at 100% power in one minute intervals, stirring at 30 sec intervals until the mixture is thick enough to coat the back of a spoon. Strain curd through a fine-mesh sieve to remove zest, optional.
Directions for crust and cheesecake:
Step 1: In a food processor fitted with the blade put one package of graham crackers in and pulse to get fine crumbs. Now add 2 tablespoons of granulated sugar and 3 tablespoons of melted butter and turn the food processor back on to mix thoroughly.
Step 2: Put cupcake liners in a cupcake pan and put about a tablespoon of the graham cracker crust in each cupcake liner and press down evenly. If you have silicone cupcake liners you can just put the liners on a baking sheet and fill with the crust.
Step 3: Clean out the food processor and put the blade back in, then add the cream cheese and sugar, turn on until mixed well then scrap the sides down. Turn on processor again and add eggs one at a time thru the shoot. Turn off and scrap down the sides, add the lemon juice, vanilla, and lemon zest then turn on until mixed.
Step 4: Turn on oven to 350 degrees F. Fill each of the cupcake liners with the cream cheese mixture about 3/4 full. I used a ice cream scooper to fill my cupcake liners it took two scoops for each one. Now bake the cheesecakes for 20 min. Do not let the tops get browned or cracked. When the cakes start to crack it means they are getting too done. When the cakes are done take out and let cool.