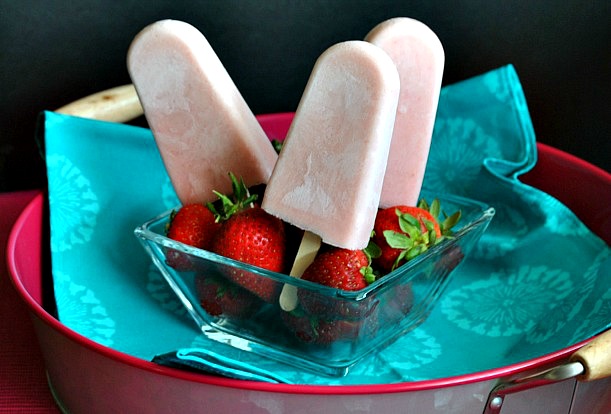 After working all day outside my husband loves to come home to an ice cold house and drink an ice cold fruit smoothie. All year round you'll find us with blankets and socks on in the house, my kids complain but I'm used to it by now and actually prefer it to stay cold year round too. If you want to get warm then walk outside and melt in the high 90-100 heat and humidity of the South.
So on an ordinary hot humid day I offered to make my husband a smoothie. I had some really ripe honeydew that needed to be eaten because it was too ripe but perfect for a smoothie. I tossed it in the blender with some strawberries and some yogurt and it was really good. I had a little taste but gave most of it to my husband, then I went on to make another smoothie using the remainder of the melon and berries. Because it was late at night and I really didn't need a smoothie I got the idea to freeze this yummy smoothie into popsicles. I love ice cream but I love healthy popsicles just as much and don't feel near the gulit upon consuming 1 or 2. The honeydew gave these pops a nice melon taste that we normally don't get to enjoy year round. If you make these I think you could substitute cantaloupe in place of honeydew although I haven't tried it that way but I'm sure it would be just as tasty. My popsicle molds are about 4 oz. each and this recipe made 8 pops, if you have left overs you could always drink the left overs.

Melon Berry Popsicles
1 cup honeydew chopped
1 cup sliced strawberries fresh or frozen
1/3 cup Greek style plain unsweetened yogurt
1/3 cup water
2 T. agave syrup
Directions:
Step 1: measure the water and yogurt and put into the blender. Then measure the chopped fruit and put in blender. Turn on to blend well. Taste for sweetness and then add the 2 T. of agave syrup in.
Step 2: Pour into molds and put sticks in. For a how to tutorial check out my strawberry pops.