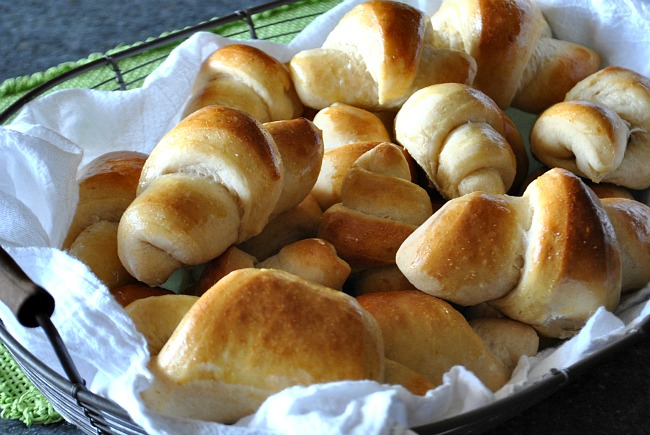 A friend of mine gave me this recipe of her mother's years ago before I ever learned how to make my own bread and rolls (not that I'm an expert by any means).  I watched her make these and thought I could probably do that too. These rolls are easy to make and if you've never tried to make your own rolls before this is a good starter recipe because it's almost fool-proof. This recipe is great for cinnamon rolls too or garlic rolls.
Luncheon Rolls
Ingredients:
4 1/2 – 5 cups all-purpose flour (can substitute 1 cup of whole wheat flour)
2 pkgs. dry yeast or 4 1/2 tsp.
3/4 c up milk
1/2 cup water
1/4 cup vegetable oil
1/4 cup honey
2 tsp. salt
2 eggs room temperature
Directions:
Step 1: First combine the flour and yeast together in large mixing bowl.
Step 2: Combine milk, water, oil, sugar, and salt together in microwavable bowl and heat until warm to the touch not super hot.
Step 3: Add wet ingredients to flour mixture and beat until smooth, I use a Kitchen Aid Stand mixer and use my bread attachment and knead until well combined and not lumpy about 5 min.   Next add 1/2 to 1 cup more of flour and knead.
Step 4: Cover bowl with plastic wrap and let rise in a warm place 20 min.
Step 5: Spread some flour out on the counter and divide the dough in half, then round each half into a ball and roll out into a round circle about 11 in. and cut evenly like pizza with a pizza cutter or knife.  Now roll each piece up from the large end to the small end for the crescent roll shape.  Let rolls rise for 30 min.
Step 6:  When ready to bake beat 1 egg with a fork and with a pastry brush lightly brush the egg over the rolls.Bake at 350 degrees for 15-20 min. on the lower rack of your oven.