You might be asking yourself what are finger limes?  You are not alone, I had no idea what they were either until I was contacted by Megan from Shanely Farms asking me if I would like to try some.  Well, of course I would like to try them.  I awaited their arrival with anticipation then they got here and they were so adorable.  Not only are they cute they have a nice citrus flavor to them but the flesh is not like a regular lime. You can see that they have clear to pinkish little beads or pearls as flesh. There are a couple of ways to get the  flesh to come out of these little jewels, one way is to cut in  half and scrap out the flesh. Another way to get all the  pearl beads out is to cut off the end of one finger lime then squeeze out all the flesh.  When you bite into the tiny  beads they burst a nice lemon-lime flavor. The season for finger limes is late August to February, so although everyone is getting pumpkin and apple recipes out there right now, there is still room for some fresh citrus for the season.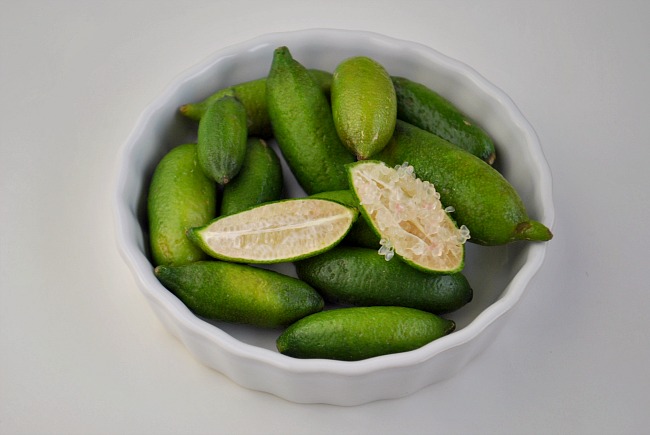 After receiving the finger limes I wasn't sure what to do with them until I read more about them from Shanely Farms.  Finger limes are to be used anywhere you would use the traditional lime.  The pulp doesn't juice like the regular limes so I used both types of limes in my recipe here, along with the zest from the traditional limes.  The results were fantastic in the recipe that I adapted from a lemon pudding cake.  The cake is melt in your mouth good with a fresh zing from the limes.  This cake could be served in individual souffle cups as well as a whole cake as I did.  There is no need for ice-cream or whip cream because this cake can stand on it's own with just a light dusting of powered sugar.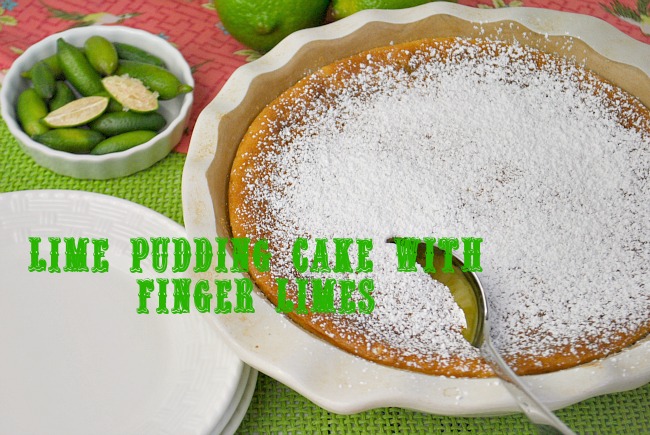 Lime Pudding Cake with Finger Limes
Recipe adapted from
Two Peas in their Pod
Ingredients:
4 tablespoons unsalted butter, at room temperature
1 cup granulated sugar
1/2 tablespoon lime zest
pearls from 3 finger limes
3 large eggs, at room temperature, separated
1/3 cup lime juice
1/3 cup all-purpose flour
1 cup sour cream
1/4 teaspoon salt
Powdered sugar, for dusting
Directions:
Step 1: Preheat the oven to 350 degrees F. Butter a 1-quart souffle dish. (You can use smaller dishes or ramekins, if you want individual servings, I used a deep dish stoneware pie pan).
Step 2: In the bowl of a stand mixer, beat the butter at medium speed until light and fluff.  Add the sugar and lime zest and lime  pearls and beat until combined. Add the egg yolks, one at a time, beating well after each addition. Reduce speed to low and add half the lime juice, half the flour and half the sour cream and beat until smooth; repeat with remaining lime juice, flour and sour cream.
Step 3: Beat the egg whites at medium speed until foamy. Increase speed to medium-high, add the salt, and beat to stiff peaks. Add one-quarter of the whites to the lemon mixture and gently fold in. Continue to fold in whites one-quarter at a time. Transfer it to the prepared soufflé dish or dishes. Place the dish or dishes in a larger pan and carefully pour boiling water around it to a depth of 1 inch.
Step 4: Bake for 50-60 minutes or until slightly golden brown and the center is just set. The cake should spring back when gently touched. Do not open the oven door while the cake is baking. Remove from the water bath immediately and cool on a rack for 10-15 minutes.
Step 5: Lightly dust with powdered sugar. Serve warm.