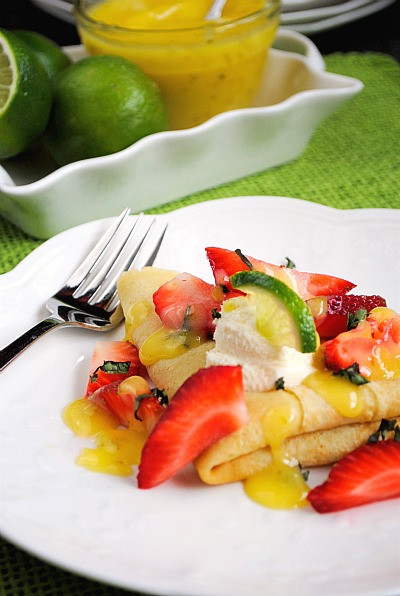 I am so excited to share this recipe with you because it is so delicious and my own creation.  I love the flavors of this recipe, the sweet-tartness, the beautiful Spring colors and flavors.  Sometimes in the food blogging world you need a little inspiration for creating something new and going a bit out of your comfort zone.  My great fellow foodie friend known in the blogging world as Cinnamon and Spice and Everything Nice has given me some inspiration by co-hosting Dessert Wars a new website open for anyone who wants to participate or just get great recipes and ideas.  Cinnamon girl is such a wonderfully creative cook, you will love gleaming some of her genius by searching her website.  Dessert wars is all about creating a dessert around a theme that has been chosen and following the rules, then possibly winning a prize and bragging rights. There is no voting or popularity contest involved here, just submitting a wonderful recipe and making sure you followed these rules.  Right now it doesn't matter to me if I win anything or not because licking the plate clean was all I needed 🙂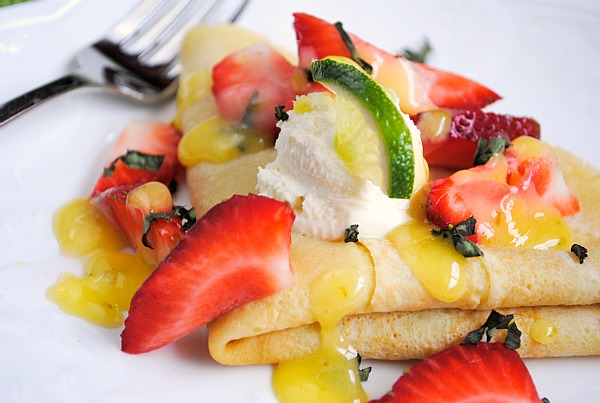 I say this recipe is my creation but I guess that is not all true because I got the wonderful lime curd recipe from one of my favorite cook book authors Rose Levy Beranbaum and her cook book The Cake Bible. The cake bible is the perfect title for her book because she teaches you how to make cakes and creating them like she is a scientist.  The recipe for the crepes is mine from my post on crepes filled with banana and strawberry cream, that post has a nice video from food network on how to cook the crepes.   The white dollop on the crepe is not  whipped cream, it is actually white chocolate mousse from my strawberry tart recipe.  What I will help you with here is making the lime curd from Rose's recipe, it is irresistibly good and help you understand the process of assembling them. Hope you love these as much as I did.
Lime Curd
Ingredients:
3-4 limes juiced-3 oz.
1/2 cup sugar
4 egg yolks
4 T. butter
2 tsp. lime zest
Directions:

Step 1: In a heavy saucepan beat egg yolks and sugar until well blended.  (if using a non-stick pan use a nylon whisk so it won't scratch your pan)
Step 2: Stir in lime juice.  Add butter and cook on med-low heat stirring constantly until it thickens resembling thin hollandaise, sauce, which thickly coats a wooden spoon but is still liquid enough to pour. ( do not let the curd boil or it will curdle, if steam appears, remove briefly  from the heat)
Step 3: Remove from heat and stir in the lime zest.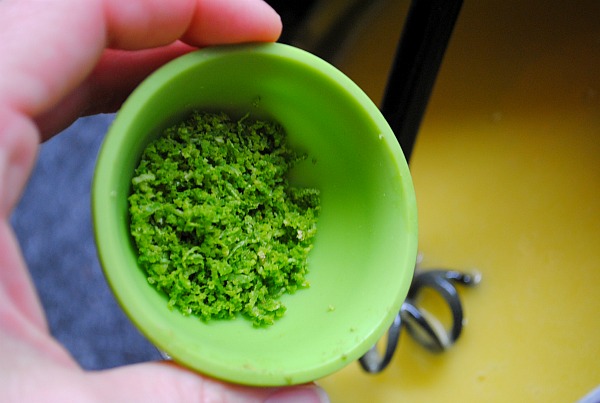 Step 4: Transfer lime curd to another dish, it makes approximately 3/4 to 1 cup.
Ingredients needed for Assembling the crepes:
Strawberries about 2 per crepe
White Chocolate Mousse about 1 cup
5 large basil leaves chopped
Step 1: You may heat your crepes up or use at room temperature which ever your prefer.  Lay the crepe flat and put a tablespoon of lime curd in the middle and spread out evenly, if you prefer more curd then use more.

Step 2: Fold crepe in half and then in half again until you have a triangle.
Step 3: Put crepe triangle on a serving dish, put a small scoop of white chocolate mousse in the middle, sprinkle with chopped strawberries about 1-2 per crepe.
Step 4: Chop fresh basil small and sprinkle on top of your crepe, add another tablespoon of lime curd over the top and serve.
Notes and Tips:
If you don't want to make the mousse then try using whipped cream or even vanilla ice cream.  If you choose to use ice cream use a small scoop so it doesn't take over the desserts flavor.
It would be pretty to make all the crepes and put the lime curd inside, then lay on top of one another on a long platter, then add the remainder of ingredients to make on large dessert that people can serve themselves with.
Leaving the basil out is fine, but the basil just brings it up to another freshness level.
Enjoy!!
By the way the great prizes that the March winner of Dessert Wars get are listed below.
The March prize package includes:
Linked to:Prairie Story