Lemonade is a great thirst quencher and it just got a lot more fun in these popsicles 🙂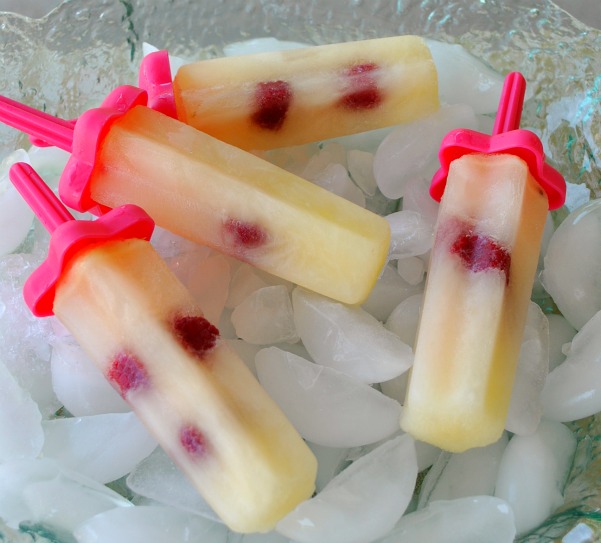 I know that I have already shared a popsicle recipe with you but it has been sooo ridiculously hot where I live, all I can think about is cold things, like smoothies, ice-cream and every kind of popsicle imaginable.  I have been more than addicted to homemade popsicles this Summer, I make them a couple of times a week.  Another reason I had to share this recipe is I love this star set of popsicle molds I found at Marshall's. It has this great stand to hold them in while they freeze, I will be using these all year I'm sure since I never really tire of ice-cream type things.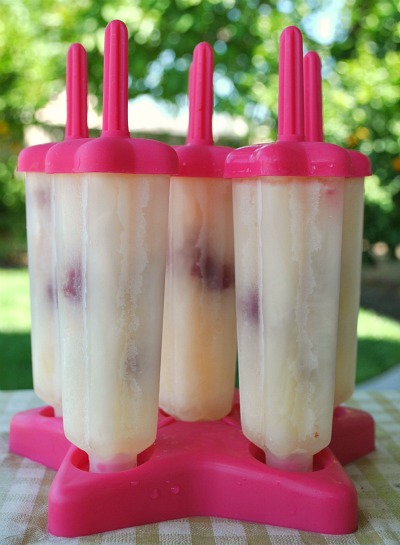 If you haven't bought any popsicle molds and you're not sure you want to, then get some small paper cups and popsicle sticks (found at a craft store) and just cover the paper cups with foil and poke a hole in the middle and put the stick in and freeze.  One reason I have been enjoying making my own pops is I know exactly what is going into them and I can make them as healthy as I would like or as unhealthy ;).  To make these I used fresh lemon juice from tree ripened lemons and fresh raspberries for a pop of color and taste.  If you would like to just mix the raspberries into the juice in the blender that would be great too  and a pretty pink.  Make sure you taste the juice before you pour it into the molds to see if it is sweet enough for you, I tend to like things a bit more on the sour side.  Have fun and enjoy the Summer.
Lemonade Popsicles with Raspberries
Ingredients:
1 cup fresh squeezed lemon juice
2/3 cup water
3/4 cup sugar
fresh or frozen raspberries
Makes: 6 pops
Directions:
Step 1: Put all ingredients in a blender except raspberries, turn on to blend so the sugar gets dissolved, taste to see if it is sweet enough.
Step 2: Pour into the molds add 2-4 raspberries put the plastic tops on and freeze 8 hours or overnight.  When ready to eat, run under warm water to loosen the popsicle from the plastic.