I realize we are into September and Fall baking calls for apples and pumpkins with spices not lemon and berries, but I can't help but hang on tight to the very last bit of Summer.  I am enjoying some time in California at my parents house and I've been craving lemon desserts. My dad has a Meyer lemon tree in the back yard but the lemons are not ripe right now, so I had to buy lemons at the store, it's like a cardinal sin here. I debated between three things to make lemon meringue pie, lemon brownies or this lemon pudding cake, I asked mom what sounded good, all of them she said. By now it's obvious which one I choose, "lemon pudding cake".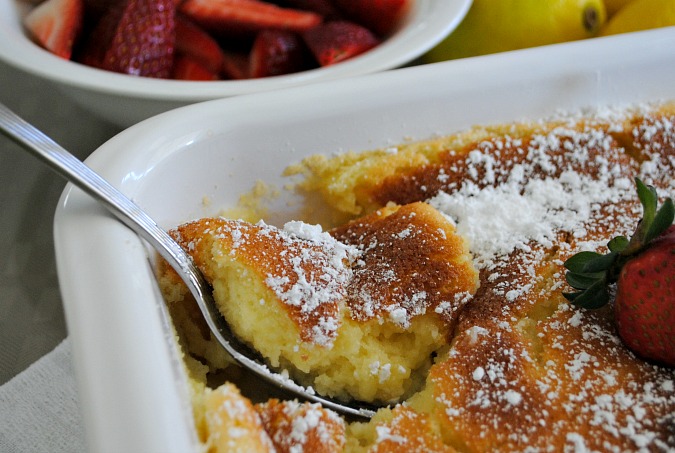 A few minutes after I finished taking photos of this cake my sister arrived with 3 starving teenage boys who all but devoured the dish. My mom was napping so I had to get her a piece of cake out while the remainder of the cake disappeared literally in seconds. There were "mmm's" and "ah's" between gulps and the only complaint was that the cake was too small! Not only did they finish this cake but they also ate the rest of another cake I had made last week , so nice to bake for boys who love your baking. My son happens to be too picky, he doesn't eat everything in site yet like my sister's boys who are older and swimmers.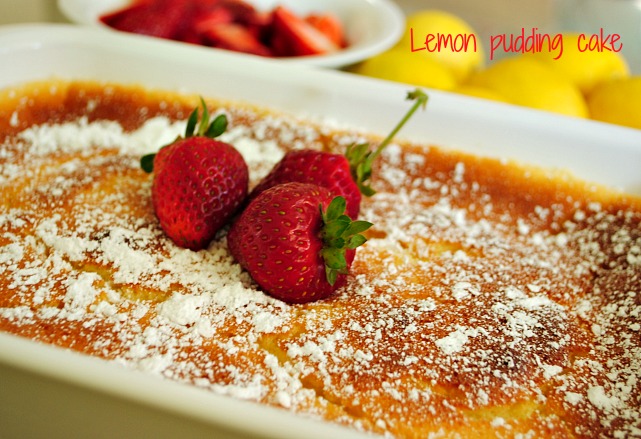 The texture of the cake is like souffle and pudding with the perfect tang from the lemon. There is no need for frosting or lavish decorations just a dusting of powdered sugar will do just fine.  If lemons are not your favorite citrus fruit I have also made this same cake with limes and it was pretty delicious too! You might be afraid to make a cake from scratch but this one isn't  hard at all and it's amazing, your family and friends will be in love with it. When you make it once you'll want to make it again and again.  Enjoy this fantastic cake!
Lemon Pudding Cake
Ingredients:
4 tablespoons unsalted butter, at room temperature
1 cup granulated sugar
1/2 tablespoon fine lemon zest
3 large eggs, at room temperature, separated
1/3 cup lemon juice
1/3 cup all-purpose flour
1 cup sour cream
1/4 teaspoon salt
Powdered sugar,for dusting
Strawberries or any berry you like for garnish
Directions:
Step 1: Preheat the oven to 350 degrees F. Butter a 1-quart souffle dish. (You can use smaller dishes or ramekins, if you want individual servings.
Step 2: In the bowl of a stand mixer, beat the butter at medium speed until light and fluff. Add the sugar and lemon zest and beat until combined. Add the egg yolks, one at a time, beating well after each addition. Reduce speed to low and add half the lemon juice, half the flour and half the sour cream and beat until smooth; repeat with remaining lemon juice, flour and sour cream.
Step 3: Beat the egg whites at medium speed until foamy. Increase speed to medium-high, add the salt, and beat to stiff peaks. Add one-quarter of the whites to the lemon mixture and gently fold in. Continue to fold in whites one-quarter at a time. Transfer it to the prepared soufflé dish or dishes. Place the dish or dishes in a larger pan and carefully pour boiling water around it to a depth of 1 inch.
Step 4: Bake for 50-60 minutes or until lightly golden brown and the center is just set. The cake should spring back when gently touched. Do not open the oven door while the cake is baking. Remove from the water bath immediately and cool on a rack for 10-15 minutes.
Step 5: Lightly dust with powdered sugar. Serve warm.
Recipe adapted from Two Peas in their Pod, Luscious Lemon Desserts and seen on The Traveler's Lunchbox