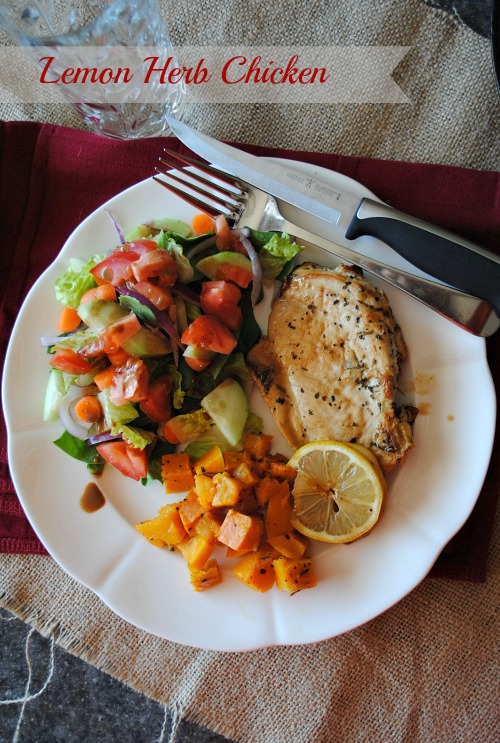 I took a small poll on my Facebook page and asked if you all would be interested in light recipes or lower in calorie recipes and many said yes, and so we have this light lemon herb chicken recipe. I have to say the inspiration for this recipe came from my pinterest page of healthy recipes that I pinned. Men's Health magazine pinned this recipe but it didn't give the particulars of how to cook and I added a few ingredients.  I am  a chicken and lemon eater and if you look through my savory recipes your not going to find too many beef recipes (sorry it's just me), so this recipe looked pretty delicious to me and easy.  I am always looking for easy recipes when it comes to cooking dinner and this fit the bill for that.  The ingredients almost all come from the pantry except the chicken of course and the lemons & garlic.  I love fresh herbs but seriously how convenient are they for most of us, not very so I like the convenience of using up my pantry herbs here.  I love to grill but not everyone has a grill but most people have a stove top and oven so there is no excuse not to give this recipe a try and cook something light and easy for the family.  My son the food critic. didn't say a bad word about this recipe and these days I find that highly unusual, teenage approval equals happy mom 🙂 .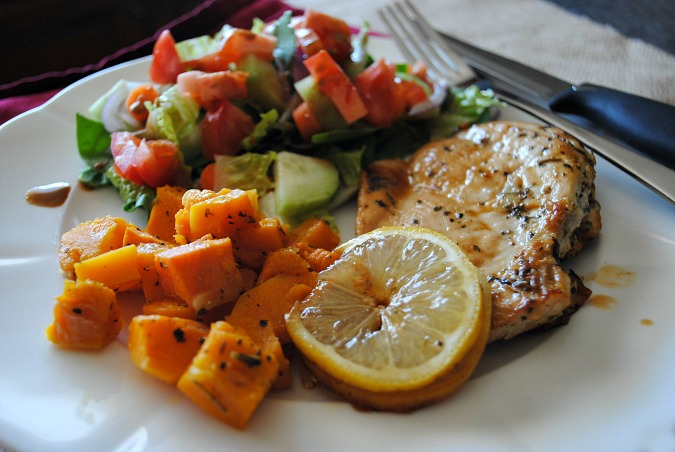 The whole plate you see here is under 600 calories depending of course what type of salad dressing you put on your salad. I am trying to watch my calorie intake to shed my winter coat and I'm loving that this recipe is light and the whole dinner under 600 calories. I am using a the website my fitness pal to put my recipes into the site and tracking what I eat and how much a I exercise too. If you have a smart phone and or ipad you can download the app which is really helpful especially when you are out to dinner because many of the chain restaurant foods are already entered into the system. I hope this recipes satisfies the taste buds and on the skinny, it did the trick for me, enjoy!
Lemon herb chicken
Ingredients:
2 whole chicken breast sliced in half length wise (I used boneless skinless chicken)
juice of 2-3 lemons equal to 1/4 cup lemon juice
1/4 cup olive oil
1/4 cup white wine vinegar
2 garlic cloves pressed or minced fine
1 T. dried basil
1 T. dried parsley
1/2 tsp. dried rosemary
1/2 tsp. garlic powder
Directions:
Step 1: Take the 2 chicken breast lay them flat and with a very sharp knife cut them in half length wise. You should now have 4 pieces of chicken approximately 5 oz. each.
Step 2: Put the chicken into a gallon Ziploc bag or into bowl that the breast can be totally submerged into the marinade.
Step 3: Put all the rest of the ingredients into the bag, seal shut. Toss the chicken around in the bag so all the ingredients are mixed evenly together. Let marinate for at least 3 hours in the refrigerator, this gives the flavors time to marry well and the acid to tenderize the chicken too.
Step 4: Pre-heat oven to 350 F. In 10 inch cast iron skillet or other oven proof skillet, put a teaspoon or two of olive oil or vegetable oil in the pan on stove top on medium high heat and let the pan get hot. Carefully put each piece of chicken into the pan using tongs so you don't get burned from the chicken popping because of the liquid it's in. Discard the marinade. Let chicken cook for about a minute on each side then pop the pan into the oven and set timer for 20-25 minutes. About 10 minutes into the cook time turn the pieces of chicken over so they will cook even and get a little browned on both sides and the juices of the chicken run clear.
Note: The chicken is much thinner than a whole breast would be, if you cook the chicken too long it will be dry. When I made this I only used half the chicken so the cook time was about 15 minutes.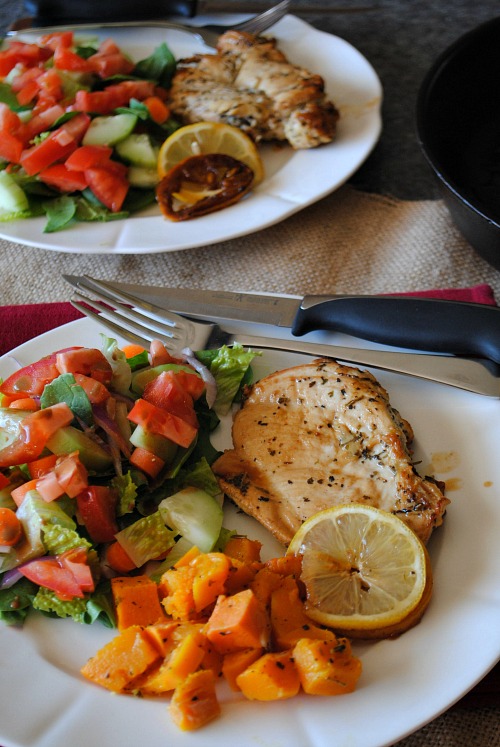 Nutrition Facts
Servings 4.0
Amount Per Serving
calories 324
% Daily Value *
Total Fat 28 g 43 %
Saturated Fat 5 g 27 %
Monounsaturated Fat 18 g
Polyunsaturated Fat 3 g
Trans Fat 0 g
Cholesterol 105 mg 35 %
Sodium 89 mg 4 %
Potassium 37 mg 1 %
Total Carbohydrate 8 g 3 %
Dietary Fiber 0 g 1 %
Sugars 5 g
Protein 30 g 61 %
Vitamin A 4 %
Vitamin C 15 %
Calcium 1 %
Iron 10 %
* The Percent Daily Values are based on a 2,000 calorie diet, so your values may change depending on your calorie needs. The values here may not be 100% accurate because the recipes have not been professionally evaluated nor have they been evaluated by the U.S.