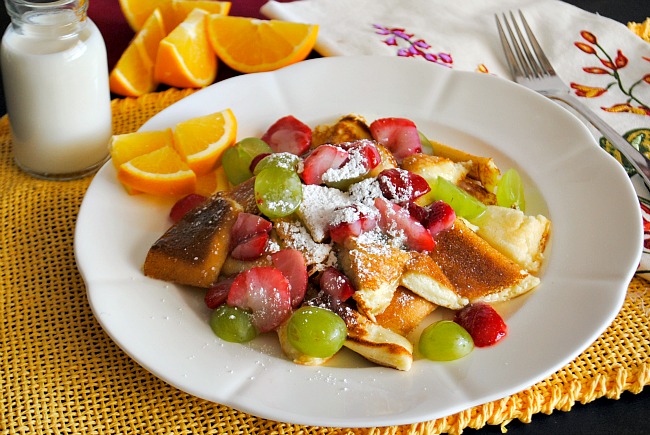 If you read my recipe on Chicken Fricassee then you know I have this fabulous German exchange student here named Michelle, and I promised a few more of her favorite dishes. This dessert or breakfast called kaiserschmarren (ky-sar-sh-maun) is on her list of favorites. Kaiserschmarren is a lot like pancakes only better because they are so light and airy they melt in your mouth upon arrival. Kaiserschmarren is known in Northern Germany as peasant food or food of poor people. I think I prefer these little cakes more than our traditional American pancakes which sometimes can be heavy. We made this yummy dessert for one of her classes at school and she served them with fresh cut fruit and powdered sugar.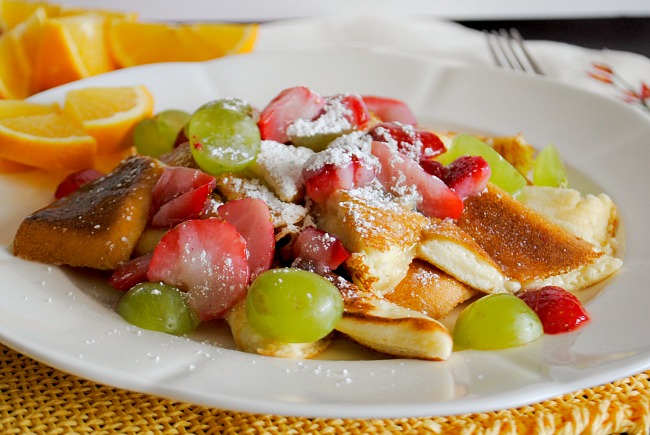 For those you who may be familiar with this dish, you can probably see that I didn't make them exactly the traditional way. Traditionally the pancake is made in a skillet over the stove top and you would fill the whole pan, turn over when it is browned and cut up while in the pan and to help it cook since it is so large. I did it this way the first time I made the pancakes but after one time I realized that cooked in smaller portions on the griddle worked out so much better. I may not have cooked it traditionally but the recipe is authentic. We hope you give this delicious pancake dish a try, we promise you will love them.

Kaiserschmarren~ A German Breakfast or Dessert
Ingredients:
4 eggs separated
1 cup all-purpose-flour or 100g
pinch of salt
1 tablespoon granulated sugar
7/8 cup of whipping cream or 200g
7/8 cup of milk or 200g
4 tablespoon of clarified butter or cooking oil like canola or sunflower
powdered sugar
fresh fruit
buttermilk sauce
 optional
Original recipe from: Dr. Oetker, 
German Cooking Today
Directions:
Step 1: Separate eggs, put yolks into a blender and whites into a bowl to beat later. Cut and prepare desired fruit.
Step 2: Add to a blender flour, cream, milk, sugar and salt. Blend on low speed for a few seconds or until the batter has not lumps. Then pour into a medium large bowl and set aside.
Step 3: Beat the egg whites on high until stiff peaks form.
Step 4: Fold ( do not stir) a third of egg whites into the batter and repeat until all the egg whites are incorporated.
Step 5: Heat a large pancake griddle or a large 12 inch skillet until hot and add the oil, let oil get hot and then pour about 3/4 cup full of the batter onto the skillet or griddle. Let the pancake cook until the it is golden brown on then flip carefully over.
Step 6: While the pancake is cooking on the second side, cut the pancake into quarters and then small again. I personally don't think this part is a must but if you want to make it traditional then do it this way. Well even more traditional but much more messy is to fill a large skillet with the batter and making one large cake which then makes sense to cut it into quarters then in to small pieces.
Step 7: Serve the pancakes with the fresh fruit and powdered sugar or even pancake syrup is good. We used a vanilla sauce left over from an apple tart and it was heavenly.