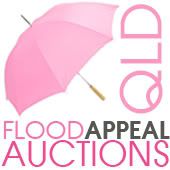 If you haven't heard or watched the news lately Australia is having some terrible floods in Queensland and people have lost lives, homes and possessions.  A blogger friend at Claire's Creations left me a comment on my blog the other day and I went to her post and the pictures of the flooding were truly sad.  She has donated her time in her community and taken photos on her way home of the devastation.  As a home baker here in the United States I can't bake goods for them, but the blogging community has jumped into help by having auctions of donated items and so far $45,000 have been collected for the Queensland people.
My friend Destri over at The Mother Huddle has got to be one of the nicest people I know, seriously.  She has thought of a way to help those flood victims in Queensland, Australia who have recently been hit with torrential rains causing serious flooding.  I know we are often moved by our heart to reach out and help others, but Destri has been a great example to me of doing something with her voice and platform through the Mother Huddle.
She is having a raffle for her en-genius idea of an apron that will be coming out in a magazine this Spring, yes you heard right… in a magazine.  The apron shown above has hot pads sewn into the pockets so you can grab something right from the oven! She is making another one for this raffle and asking that you donate to the Queensland flood victims. Go check out her raffle to raise money for the people of Queensland.
Now, I can't just sit here and do nothing and so I am offering 4 HOMEMADE JARS OF LEMON CURD to 2 people who donate at least $5.00 to the flood victims.
My raffle will begin today January 19th and end on January 24th also.  All you have to do is donate at least $5.oo to the Queensland Flood Appeal, come back and leave me a comment telling me you have donated, and you are entered into the raffle.
I donated this morning from Destri's post and it was super easy and secure.  You only have to enter information in the starred fields and it took all of about 2 min. of my time!  So please, if you have 2 min. to spare and an extra $5.00, enter the raffle.

Once you have made the donation, just come back and leave a comment telling me you did. Here are a few rules:
Make at least a $5.00 donation to the Queensland Flood appeal from the provided link
Leave comment by January 29th 2011 EST telling me you did
Enter twice if you leave me a comment on Facebook that you donated
You can leave a comment for every $5.00 you donate
To make donating a success please let all your friends and family know about this by clicking below on Facebook, twitter or you can email your friends.  All of us can help in some small way to make a difference!