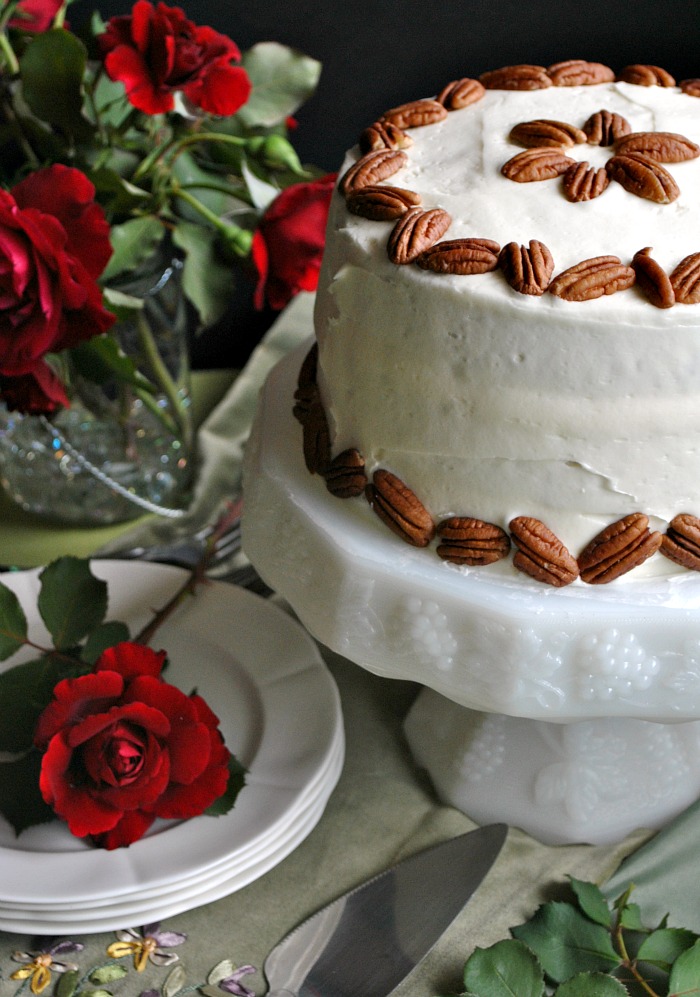 I have been wanting to make this cake forever but I haven't had to because my friend Heidi makes this for special occasions and I get the pleasure of eating it too. Heidi and I share a love of baking, she has some great cake recipes so this one won't be the only one I share with you. This recipe is her Dad's who used to bake cakes for weddings and own an ice-cream shop. I changed it a tiny bit by using coconut oil instead of vegetable shortening since coconut is the healthy oil to use now and vegetable shortening has the trans fats.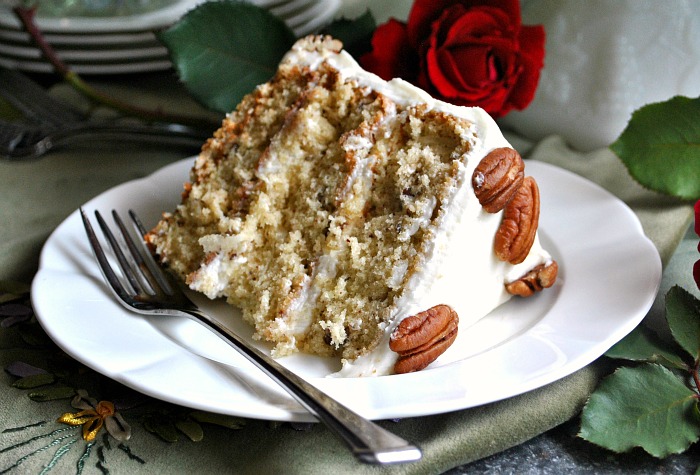 I think most people know what an Italian cream cake is but if you are not familiar then you must try this wonderful cake. It's full of pecans and coconut and frosted with cream cheese frosting, it's dense, moist and delicious.  If you are a coconut fan and pecan fan you will love this recipe, I haven't met very many people who don't love it, except my kids who don't like nuts or coconut but that is okay because it just means more for me and my hubby.
Italian Cream Cake
Ingredients:
Cake
1/2 cup or stick of butter, soft
1/2 cup coconut oil
2 cup sugar
5 egg yolks
1 tsp. Mexican Vanilla
2 cup flour
1 tsp. baking soda
1 cup buttermilk
1 1/3 cup coconut
1 cup chopped pecans
5 egg whites, stiffly beaten
Directions:
Step 1:  Cream butter and shortening, add sugar and beat until mixture is smooth then add egg yolks and beat well. Stir in vanilla.
Step 2: Sift flour and soda together then add to batter mixture alternately with buttermilk. Stir in coconut and nuts.
Step 3: Whip egg whites until stiff then fold in egg whites into the batter.
Step 4: Divide batter evenly into 3 greased and floured 8 inch round pans. Bake at 350 degrees for 25-30 min. or until a cake tester comes out clean. Cool on racks for ten minutes then turn out of pan onto cooling rack to cool completely.
Step 5: Make frosting according to directions below then, frost with cream cheese icing.
Cream Cheese Icing
1 1/2 sticks butter or 12 T. softened
8 oz. cream cheese, softened
1-2 tsp. Mexican Vanilla (or plain vanilla)
6 cups powdered sugar
chopped pecans
Directions:
Step 1: Cream butter & cream cheese together until smooth. Add vanilla.
Step 2: 6 cups of powdered sugar, add nuts if desired.
Do not recommend using a 13×9 pan.