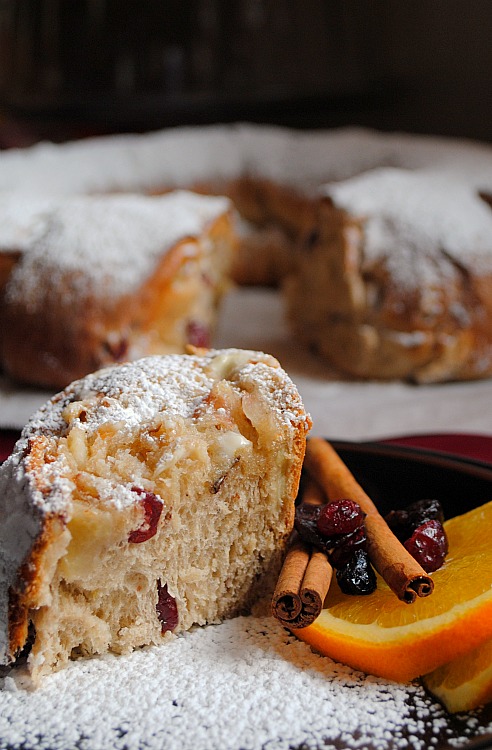 If your like me your first question is"what is stollen?" It sounds like a verb trying to be a noun, but in this case a noun is exactly what it is.  Stollen is a German sweet  bread that is traditionally made with raisins, nuts and citron.  I know…"what is citron?" I had to look that one up too.  Citron is a citrus fruit that is sort of like lemons and oranges but not really.  A picture helped me out, just incase you were wondering what it looked like.  Citron looks beautiful and I would have liked to use it but where I live we don't have such exotic fruit at the store.
If your a fruit cake fan this challenge would be right up your alley, but I have to admit I'm not a fruit cake fan or like chewy things in my bread.  Although not a fruit cake fan I was excited to learn some new techniques to enhance my bread making skills.  Bread can sometimes be challenging, so Penny from Sweet Sadie's Baking who choose the challenge offered us bakers many helps. One of the recipe references she advised was a recipe by Martha Stewart.  I liked the fact that Martha's recipe had a video to watch so I wasn't so apprehensive after viewing it. I changed the original recipe by Martha Stewart to something that I would like better and to what was available to me.  In the South pecans are grown everywhere and that is the nut our family prefers, so blanched almonds got substituted with pecans.  A Granny Smith apple in place of  dried apricots was more convenient since my bag of apricots got left at the store which happens more times than not.  All the apprehension disappeared once I got elbow deep in flour and began to see the bread coming together.  The bread dough was easy to work with and roll out, it rose well and baked well too.  I was pleasantly surprised at the whole experience.  I guess Stollen wasn't all that bad after all but the true test is in the tasting and I'm happy to say it was delicious.
How to make Stollen-A Daring Bakers Challenge
Ingredients:
1 cup packed mixed dried berries (cranberries, cherries, blueberries)
1/4 cup white grape juice
1/4 cup orange juice
5 1/2 cups all-purpose flour, plus more for dusting
6 tablespoons sugar
1/2 teaspoon salt
1/4 teaspoon ground cloves
1/4 teaspoon nutmeg
1/4 tsp. cinnamon
1 cup milk
10 tablespoons unsalted butter, plus 3 tablespoons, melted
1/4 cup warm water (about 110 degrees)
2 packages active dry yeast (5 teaspoons)
3 large eggs, lightly beaten
Grated zest of 1 orange
Grated zest of 1 lemon
1 granny smith apple peeled and sliced thin
1 cups pecans coarsely chopped
Confectioners' sugar for dusting
Directions:
Step 1: First measure out the dried fruit and put into a small bowl, pour orange juice and white grape juice over and set aside.
Step 2: Measure the dried ingredients and sift together into a large bowl. In another small bowl put yeast into the warm water and let bubble up 2-3 min.
Step 3: Meanwhile in a small saucepan heat milk and butter on medium heat until the butter is melted. Beat eggs lightly in a small bowl and add to the dry ingredients along with milk mixture and yeast. If using a mixer with a dough hook turn your mixer on to low and let the dough get kneaded until the dough no longer sticks to the sides and is smooth.
Step 4: Add mixed berries and knead again adding about 1/2 cup flour to the dough. When the berries are incorporated into dough dump dough onto a floured counter top.
Step 5: Add the prepared apple, grated citrus peel and nuts to the dough and knead in by hand until the ingredients are incorporated well.
Step 6: In a large oiled bowl place dough in and turn dough around to get all side of dough oiled. Cover dough with sprayed plastic wrap or a light kitchen towel and let rise in warm place for about 2 1/2 hours. Punch dough down and dump dough out onto a floured counter top.
Step 7: Roll into a rectangle about 1/4 inch thick. Roll dough up starting with the long side and roll into a cylinder, then turn ends into each other to form a circle. I used a large pizza stone to cook my stollen but use whatever is a large enough pan. Put parchment paper down on the pan first then transfer the wreath to the pan. Cut slits into the dough about 3 in. apart to make the wreath. Melt 2 T. butter and brush over the top of the bread.
Step 8: Bake at 375 degrees for 30-45 min. on the lowest  rack. Cool on wire rack and serve with a dusting of powdered sugar.