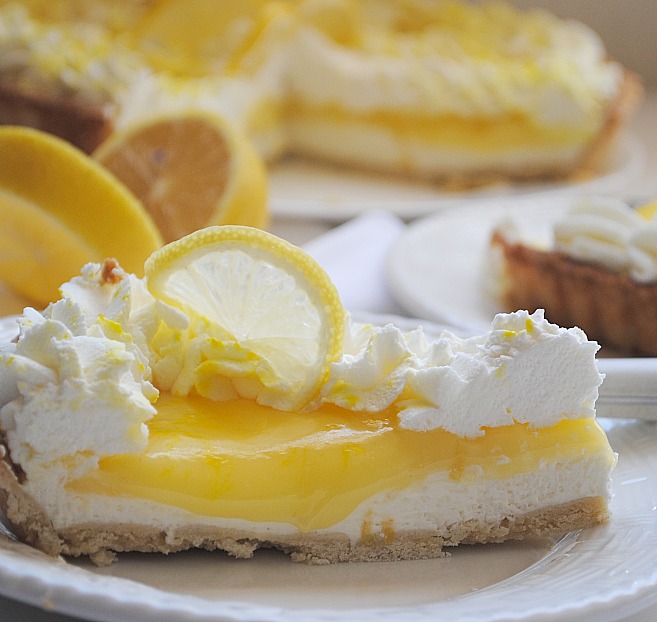 November Daring Bakers Challenge was to master the crostata which is an Italian pastry or tart. Typically a crostata is a pastry filled with jam and a lattice top crust, but there are many variations.  If your reading this and find your self asking "what's a daring bakers challenge?'.   It is a monthly challenge where foodies from around the world try to master a certain baking challenge then post about it on their food blogs or up load photos, recipes and stories to the Daring Kitchen website.  Simona from briciole chose this months challenge. Simona has a very detailed blog that was very helpful in making this pastry.    I was excited it was something I need help with pastry crust.  It seems either you have the knack with pastry dough or you don't, in my case I'm the later.  My grandma was an excellent pie maker but unfortunately I didn't learn her skill before she past away.
I chose to make a crostata that you blind bake (bake with beans or rice inside)so the crust does not puff up.  The filling for my crostata is cream cheese mixed with whipping cream, topped with lemon filling and whip cream.  Lemon pie, bars, cookies, cake all are my favorite so when I decided to make the crostata it was only natural for me to choose lemon cream.  Lemon sweets come in as a close second to chocolate:).  If you decide to tackle this challenge you will not be disappointed because the crust turned out perfect along with the lemon cream filling.
Let's get started on the crust for the crostata.  I find using a food processor for pastry crust is much easier for me but if you do not have one, a bowl and two forks will work too.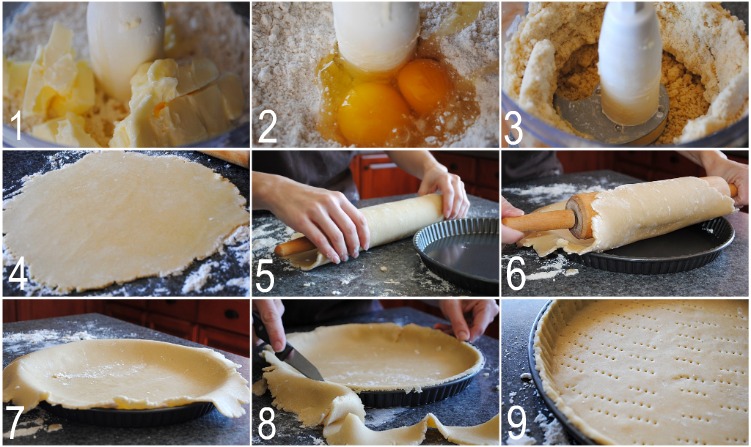 Recipe for a sweet crostata crust is found here by Pellegrino Artusi in the cook book: La Scienza in Cucina e l'Arte di Mangiar Bene" , 1891–Italy
Equipment needed:
9 inch tart pan or pie pan
food processor or bowl
rolling pin
oven
Follow these steps and you will have a wonderful tart crust.
In a food processor dump in 2 cups un-bleached flour and 1/2 cup of super fine sugar sugar and pulse.  Add 1/2 cup  of cold butter cut into chunks and pulse until it looks like wet sand.
Crack 1 whole egg and 1 medium egg yolk into the food processor and turn on and until the mixture starts to come together.  Mine looked dry and it never formed into a ball while being processed.
Pour crust into a zip lock gallon size bag and form into a ball.  Refrigerate for 30 min. to let dough rest.
Take dough out and roll out onto a floured surface about 2/3 of dough, into a big enough circle to cover your tart pan.
Roll dough back up onto the rolling pen, making sure your tart pan is very close to you.  Before you roll the dough onto the pen, I used a large pancake turner to go under and around the edges of the dough to make sure none was sticking.
Un-roll the dough over the tart pan.
Press down lightly.
Trim excess dough over the edges with a knife.
Prick dough all over with a fork.
Turn oven on to 400 degrees.  While oven is getting hot cut  a piece of parchment paper the size of the tart pan. (helps to just trace the pan on the paper then cut out)  Put paper in the pan and fill the pan with dried beans or rice.  Bake for 12-15 minutes.

When crust is completely cooled pop the bottom out by putting one hand under the pan in the middle.  Put crust on a plate and set aside.
Lemon Filling Recipe: adapted from Better Homes and Gardens  New Cookbook 1989 ed.
3/4 cup sugar
1  1/2 T. flour
1  1/2 T. corn starch
3/4 cup water
2 egg yolks
1 T. butter
1 tsp. shredded lemon peel
1/4 cup of fresh squeezed lemon juice
In a small saucepan mix together sugar, flour, and cornstarch.  Slowly add water while stirring. Heat mixture on med-high until it begins to boil and thicken, then cook 2 min. Take off the heat.
Mix egg yolks with fork and begin to temper them by slowly adding the hot sugar mixture to the yolks.(about a cup)  Add yolks back to the sugar mixture in saucepan and put back on the stove to cook.  Cook on  med. until it begins to gently boil, cook 2 min. and take off heat.
Add butter and lemon peel to the saucepan and stir.  Slowly add lemon juice while stirring.  Set this aside but stir occasionally and begin the cream filling.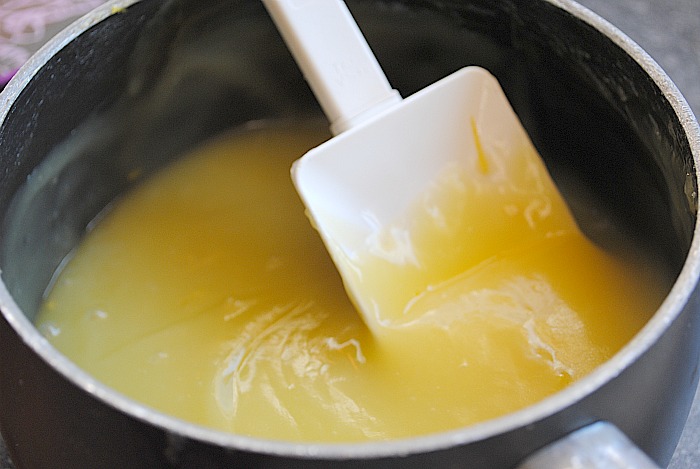 Cream Filling
2 cups of whipping cream whipped
4 oz. cream cheese softened
2 T. powdered sugar
Whisk together the cream cheese and powdered sugar in small bowl.
In a mixer whip the 2 cups of cream with 3 T. granulated sugar until stiff peaks form.
Stir half of whipped cream into the cream cheese bowl.  Spread this mixture onto tart crust, then refrigerate.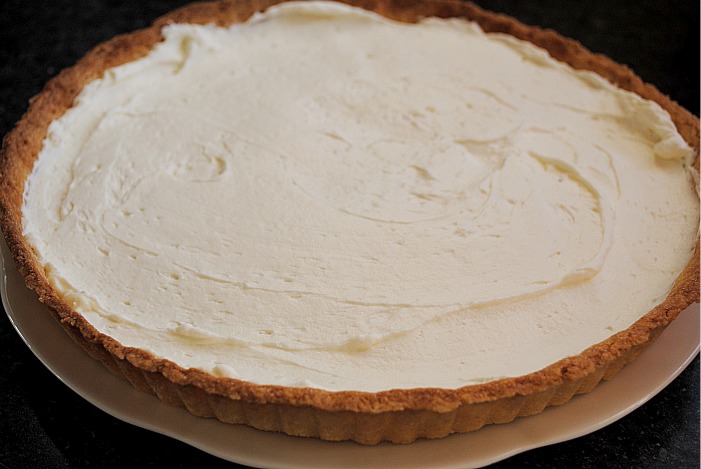 When lemon filling has cooled to room temp. spread over the cream filling.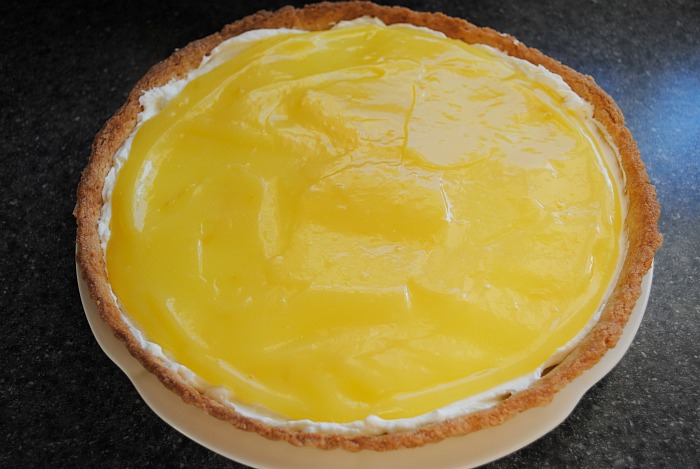 Put remainder of whipped cream into a pastry bag with large star tip and pipe shells around the edge of tart, add doll-up in the middle.  Cut 4-5 slices of lemon then cut in half again and arrange on the top of tart.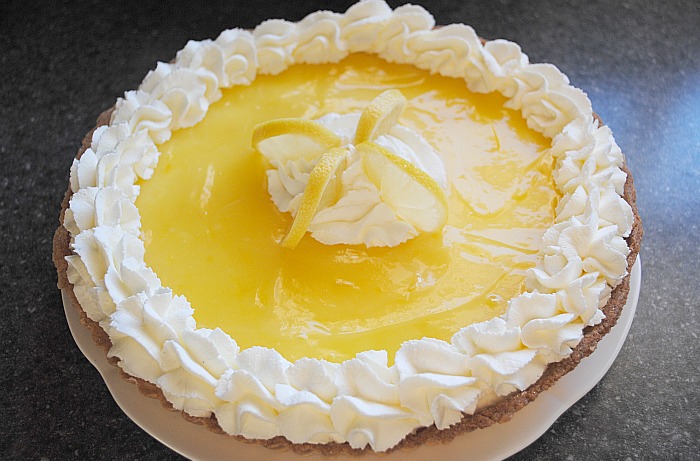 If you want pipe more cream in zig zag pattern evenly across the top of the tart.  Refrigerate a few hours and serve.