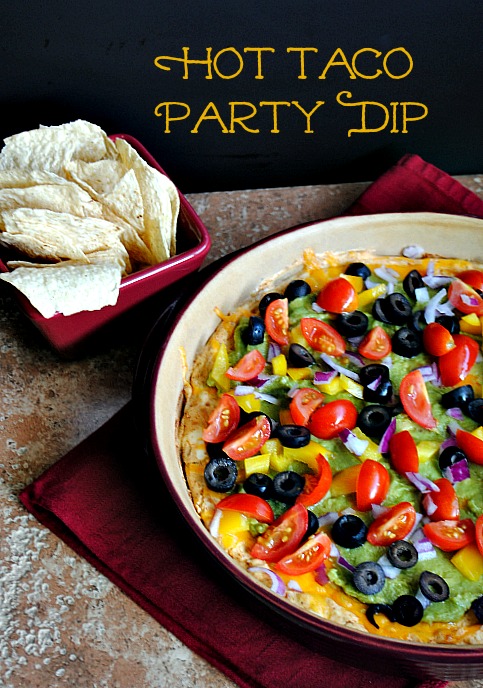 I you want to know what my favorite dip ever is…this is it. It's funny that I haven't made this for the blog until now. The recipe for this dip is originally from my days as a Pampered Chef consultant, of course I can't leave a recipe as is so I adapted it to how we like it. For those of you who are familiar with the Pampered Chef you'll recognize this recipe as "touchdown taco dip". I haven't met anyone who doesn't love this dip, well some prefer it without onions (my son) or other veggies left off but overall everyone adores this tasty party dip. I love it with lots of cilantro on top but when I made this I went to grab mine out of the fridge and it was way past it's prime. If you like the traditional cold seven layer taco dip then you will love this one because it gets baked until hot minus the veggies on top. Give this dip a try at your next get-together I promise you won't regret it.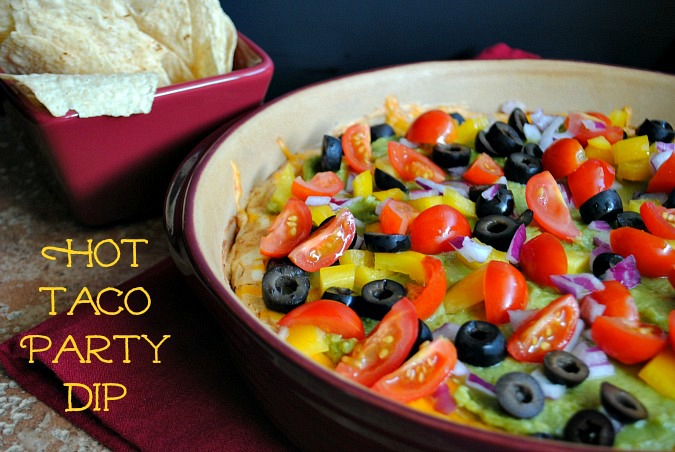 Hot Taco Party Dip
Ingredients:
1 16 oz. can of refried beans
8 oz. cream cheese
8 oz. sour cream
2 cloves garlic minced
2 tablespoons taco seasoning
2 oz. cheddar cheese grated
1 tomato chopped or 1/2 basket of cherry tomatoes quartered
1/2 of yellow or green bell pepper chopped
1 4 oz. can of sliced black olives
1/4 cup of chopped purple onions or chopped green onions
4 oz. of guacamole or 1 large avocado chopped
Garnish with chopped cilantro (not pictured)
Directions:
Step 1: Preheat oven to 350 degrees Fahrenheit. In a large baking dish, I used a 10 inch round stoneware dish, but I think a 9 X 13 inch would work fine, spread the can of refried beans evenly on the bottom.
Step 2: Mix together softened cream cheese, sour cream, garlic and the taco seasoning in medium size bowl. Spread the mixture over the refried beans. Top with grated cheese.
Step 3: Bake for about 20 minutes or until the dish bubbles up on the sides.
Step 4: While the beans dip is baking chop the veggies up.
Step 5: When the bean dip is done take out of the oven and gently spread on gucamole is using, if not begin to sprinkle evenly the top with all the veggies.
Step 6: Serve hot with tortilla chips.