Pin It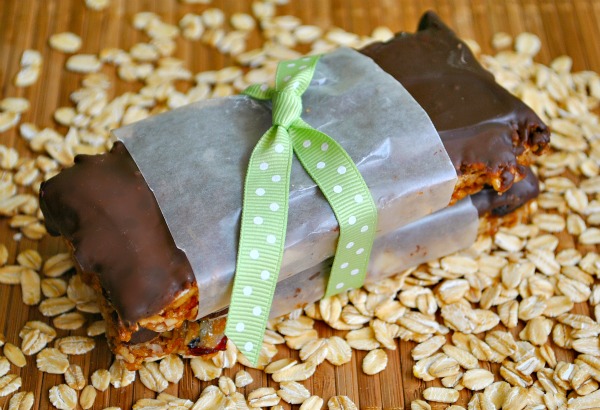 Granola bars are on my grocery shopping list weekly because we grab them for a quick snack on the go. I like granola bars because they seem more healthy than a candy bar but have you ever looked at the long list of ingredients in a store bought granola bar? The longer the ingredient list suggest the more processed the bars are and has me wondering if they are really that healthy. Not to worry any longer if you make your own granola bars and fill them with the ingredients you like they can be the healthy treat and quick snack to take on the go.  These granola bars are chewy not hard but solid enough to hold their shape. I had a hard time leaving them alone because they were so tasty, well and of course I had to dip them in chocolate which made them even better. My friend Roxana author of the blog A Little Bit of Everything was my inspiration for this recipe, I adapted them from her ginger granola bar recipe one of her many granola bar recipes. Roxana is a baker like me but she has many more healthy recipes than not so go over and say hello.

Homemade Granola Bars
Ingredients:
2 cups whole oats (292g)
1/2 cup flax meal (81g)
1 cup of dried cherries chopped coarsely or fruit of your choice (135g)
1 cup whole raw almonds chopped or nuts of your choice (173g)
1/2 cup canola oil (98g)
1/3 cup honey (129g)
1/2 cup brown sugar (127g)
1/2 tsp. salt
2 T. water
1 tsp. vanilla
1 cup bitter sweet chocolate chips melted for dipping
Directions:
Step 1: Pre-heat oven to 350 degrees Fahrenheit. Line a 9X13 pan with parchment paper or foil.
Step 2: In a large mixing bowl put oats, flax, cherries and chopped nuts in and stir to combine.
Step 3: In a small sauce pan mix the remainder of ingredients except vanilla. Heat on medium until until the sugar dissolves. Take off heat let cool for about 5 minutes. Add vanilla and stir then pour into the oat mixture and stir well.
Step 4: Pour the oat mixture into the lined pan and spread out evenly and press down and smooth the top. Bake for 20-30 minutes until they are lightly browned.
Step 5: When the bars are done take out of the oven and let cool for 10 minutes. After ten minutes lift the bars out of the pan and let cook for 20-30 minutes. After cooled cut with a sharp knife into bars the size you would like.
Step 6: Melt the chocolate chips in the microwave safe bowl in 30 second intervals, stirring after each 30 seconds to melt evenly. When the chocolate is melted and smooth dip the bottom side of each granola bar into the chocolate and dry on wax paper with chocolate side up. After chocolate is dried store the bars in a tight closed container.