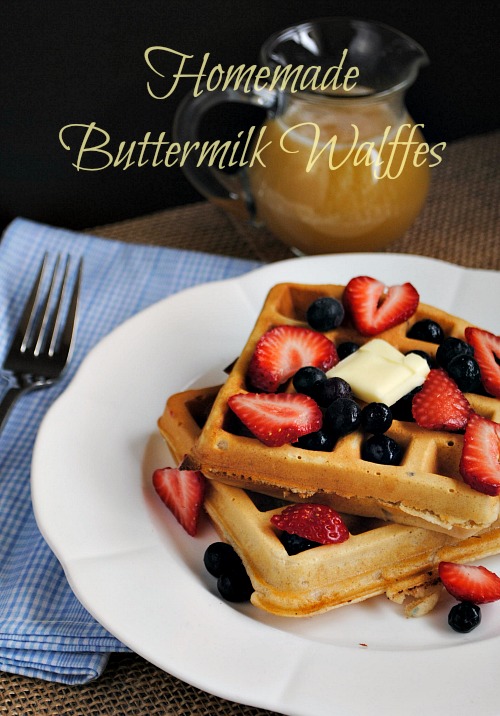 I am a breakfast girl always have been and always will be, but that is not to say I am and early riser. I do like to sleep in and make a good breakfast on the weekend and I'm always in the the mood for some yummy homemade buttermilk waffles. I find that although waffles are in the same batter category as pancakes there is a difference in how you make them crispy but soft too. I have been hunting for homemade a waffle recipe that is no fail for a while now and this recipe is the closest one that I think tastes best. I'm thinking that this recipe would be great for Christmas morning, just get the dry ingredients ready the night  before then whipping them up will be a cinch. Enjoy this delicious recipe.
Homemade Buttermilk Waffles
Ingredients:
2 cups flour (I often add 2 T. ground flax meal too)
1 tsp. salt
4 tablespoons granulated sugar
3 teaspoons baking powder
2 eggs, whites separated
1/2 cup vegetable oil
1 1/2 cups buttermilk
Directions:
Step 1: Mix together the flour, salt, sugar, baking powder in a medium mixing bowl.
Step 2: Separate the egg yolks from the whites. and in a small mixing bowl beat the yolks with the oil and buttermilk.
Step 3: In another bowl preferably with high sides beat the egg whites until they have stiff peaks when the beater is lifted from them it should stand up straight.
Step 4: Add the buttermilk mixture to the dry ingredients and mix well. Then fold in the egg whites until incorporated do not stir.
Step 5: Preheat your waffle iron and follow manufactures directions. I usually use a 1/3 cup per waffle in my waffle iron, but each one is different. Cook until golden brown and serve with fruit, and syrup. If you would like the recipe for the above buttermilk syrup then click this link.