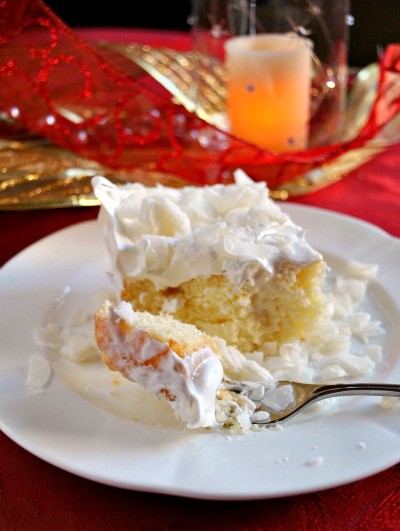 My sister-in-law Jileen made this cake for a family gathering one time and we all swooned over it.  This coconut cake is one of those recipes that you just have to have after you taste it. Some years ago she came across this wonderfully simple coconut cake that everyone loves and it has become a favorite. I made some slight changes but it's still the easiest and best coconut cake for a crowd. Give it a try and judge for yourself on how wonderful it is.
Heavenly Coconut Cake
1 box white cake mix(and ingredients to make)
1 can sweetened condensed milk
1 can real cream of coconut
1 8 oz. tub cool whip(you may use real whipping cream)
1 pkg. frozen grated coconut(can use the regular not frozen type)
Directions:
Step 1: Mix cake mix according to package directions for 9X13 except substitute the liquid with buttermilk.
Step 2: When cake is done let cool. After cooled poke holes in top of the cake with the back of fork or knife.
Step 3: Mix sweetened condensed milk with coconut milk and slowly pour over the top of cake. Frost with cool whip sprinkle coconut on top. Refrigerate for several hours before serving.
Serves 12.