Pin It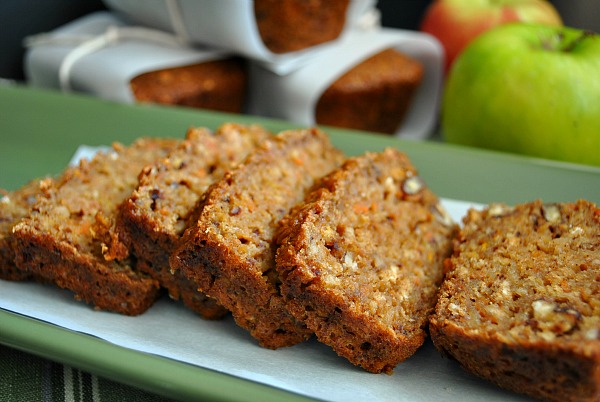 The Daring Bakers' February 2012 host was – Lis! Lisa stepped in last minute and challenged us to create a quick bread we could call our own. She supplied us with a base recipe and shared some recipes she loves from various websites and encouraged us to build upon them and create new flavor profiles. I love quick breads or cakes baked into loaf pans is more like it ;). I decided to try something healthier with this carrot apple nut bread recipe. Some of you may stop reading by now since the word healthy is brought up and others may lean in closer to get the secret to eating a quick bread without sacrificing taste. Flax meal is the secret to baking this bread healthier. Yes, the tiny little flax seed gets ground up and added instead of oil, wait a minute..you don't need to go and get a grinder because flax meal is found at your local grocery store. I happen to buy Bob's Red Mill Flax Meal and on the bag is a recipe originally for muffins but I changed it up of course and decided to make mini loaves. I added orange zest since I'm on a kick with that lately and I changed a few others things too and I'm happy to report that this lovely quick bread which happens to be healthier for you is really tasty. It reminds me of carrot cake without the cream cheese frosting, oops did I say cream cheese frosting? Well, just forget I said that because today we are talking healthy and remember these little loaves are better for you and give you good nutrients too.
No oil or butter in quick bread it's got to be a typo, nope it's really how it's supposed to be made. You see flax can substitute fat in baking recipes (cool huh). Flax is a healthy alternative to the traditional use of oils, butter, shortening and eggs too. Flax has fat in the seed but it is a healthy omega-3 fat that our body's need. We all need some fat but many people eat too much, or some people may be on a restricted diet and can't have the cholesterol that butter adds, so flax comes to the rescue. I am not an expert on flax but I do know it's good for us and I try to incorporate it as much as I can in my cooking, baking and smoothies. I do know the flax meal is digested better than the seeds and I prefer the golden flax meal over the dark flax because it has a more mild nutty taste. If you want to know more about the health benefits of flax and want to learn how to incorporate it into your diet then visit www.flax.com

Healthy Carrot-Apple Nut Bread-A Daring Bakers Challenge
Recipe adapted from:
Bob's Red Mill
Carrot Bran Muffins
Ingredients:
1 1/2 cup all-purpose flour (163 g)
1/2 cup golden ground flax meal (55 g)
1/2 cup oats (I used quick, 50 g)
1 cup packed brown sugar (229 g)
2 tsp. baking soda
1 tsp. baking powder
1/2 tsp. salt
2 tsp. ground cinnamon
5 small carrots grated
2 large Granny Smith apples grated
1 orange zested
2 eggs beaten
1 cup buttermilk (228 g)
1/2 cup chopped unsalted nuts (I used pecans)
Directions:
Step 1:
Pre-heat oven to 350 degrees Fahrenheit. Measure all the dry ingredients including the brown sugar and whisk together in a large bowl.
Step 2:
Grate the apples and carrots in a food processor or box grater and zest orange. Add these ingredients to the dry ingredients and stir well.
Step 3:
Beat the eggs and measure the buttermilk and add to the dry ingredients and stir well.
Step 4:
Spray mini loaf pans with cooking spray and then divide batter equally into 4 mini loaf pans. Bake for 40-45 minutes or when tested with a cake tester it comes out clean. Cool in pans for 10 minutes. Then turn over onto cooling rack and let cool if you can.