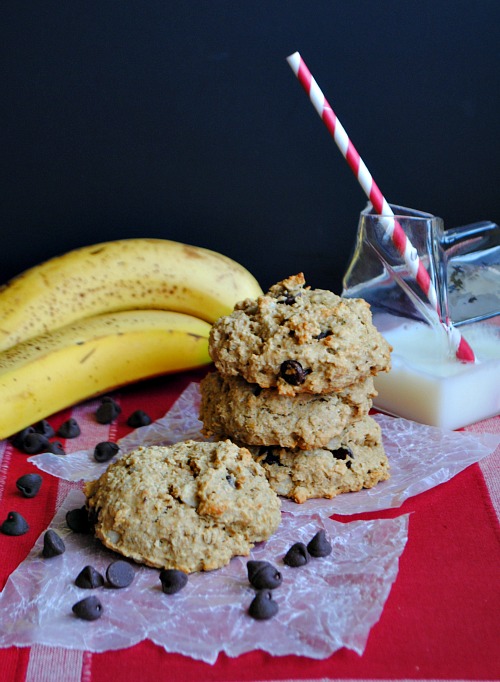 Cookies for breakfast... too good to be true right? I've got a lot of reasons to eat cookies for breakfast but none of them are good for you except these cookies. I've been seeing a lot of breakfast cookies on Pinterest but when I saw this recipe from Crazy for Crust and I had all the ingredients handy, I had to try them out. I'm not sure if they are cookies or a paperless muffins or both but they are tasty. The texture is cakey, slightly sweet, and definitely oaty. I added flax meal to the batter for some extra goodness, and some macadamia nuts since they are my favorite nut lately. I made a crucial mistake when explaining these to my family I used the word healthy! They didn't touch them but that's okay because that just meant more for me, I ate them all, little by little since I froze them and just reheated in the microwave when I wanted some. I never felt guilty eating these cookies for breakfast and that is reason enough for me to make them again and again. I may try to eliminate the coconut oil and replace with applesauce to lighten them up on fat and calories. I hope you give these healthy breakfast cookies a try if you want to eat your cookies for breakfast and not feel one bit guilty!
Healthy Breakfast Cookies
Ingredients:
2 brown or ripe bananas
1/4 cup coconut oil
1 egg
2 T. peanut butter
1/4 cup granulated sugar (
Zulka brand
)
1 tsp. vanilla
1 tsp. baking soda
3 T. flax meal
1 cup whole wheat pastry flour
1 1/2 cup oats
1/4 cup chocolate chips
1/4 unsalted macadamia nuts chopped
Directions:
Step 1: Pre-heat oven to 350 degrees F. Line a cookie sheet with parchment paper or silpat.
Step 2: Mix together the bananas, coconut oil, peanut butter, egg, sugar and vanilla with a hand mixer or stand mixer.
Step 3: MIx in the flour, flax, oats, baking soda. Fold in the chocolate chips and macadamia nuts.
Step 4: Put 1/4 cup size cookies for 10 minutes or until lightly golden brown. Cool completely and enjoy. May freeze for later.