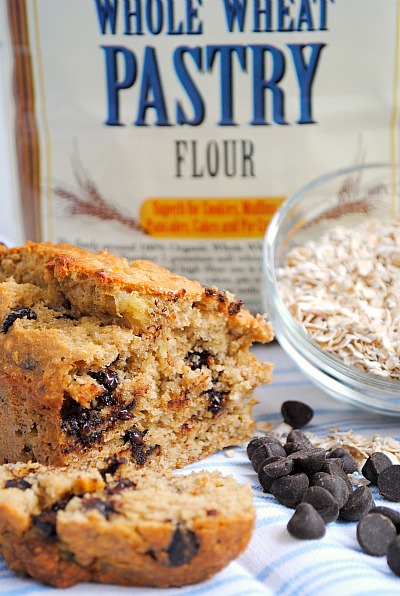 What does oats, flax, whole wheat pastry flour and bananas have in common?  Healthy banana chocolate chip bread!  I shared this recipe for healthy banana bread last year on the Mother Huddle, but  I wanted to add chocolate chips for when your craving that chocolate bar, but know you shouldn't have it.  I know that some of you are thinking "what..chocolate chips, that's not healthy", relax they are dark chocolate and we all should know by now that a little dark chocolate is good for us.  Low in fat and high in  fiber this banana bread is not like the others.  Taking out the butter and replacing it with only 3 T. of canola oil cuts the fat tremendously then using 1 egg lowers the cholesterol as well.  Oats, flax and bananas not only give this snack bread fiber but keeps it moist. I'm pretty sure your not going to miss your old banana bread recipe if you trade it in for this healthy version.

Healthy Banana Chocolate Chip Bread Mini Loaves
Ingredients:
1 1/4 cup wheat pastry flour
1/4 cup ground flax meal
1/2 cup unpacked brown sugar
1/4 cup honey
1/2 tsp. salt
1/2 tsp. soda
1/2 tsp. baking powder
3 T. of canola oil
1 large egg
2 large egg whites beaten
3 large ripe banana's mashed
1 cup uncooked old fashion oats or quick
1 cup chocolate chips
Directions:
Step 1: Preheat oven to 350 degrees.  Grease pans with butter or cooking spray 4 mini loaf pans or 1 bread loaf pan.
Step 2: In a medium mixing bowl mix oil,brown sugar, egg, egg whites, honey and oatmeal and mix sugar well make sure the brown sugar dissolves.
Step 3: Put all dry ingredients in the bowl with the wet ingredients and mix together.  Stir in the chocolate chips, and pour the batter equally into 4 mini loaf pans or 1 loaf pan.
Step 4: Bake for 35 min.  for the mini loaf pans, if baking one pan bake for 45-55 min.