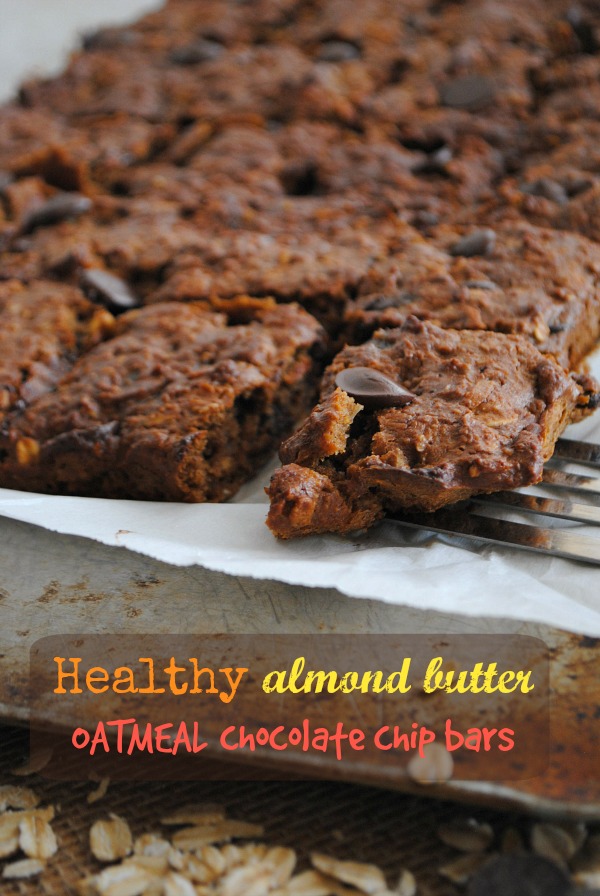 I wanted to satisfy my craving for a baked good that I didn't have to feel guilty about eating. I poured through some recipes for cookies with almond butter, but then I thought bars are just so much easier and I'm all about easy. After looking at so many recipes I just made up my own here with what sounded good and healthy.

I have to say that the chocolate chips make these bars really yummy. The bars are a cake like texture versus a cookie bar. The almond butter gives these bars a different nutty taste as compared to peanut butter. I liked these bars and ate them for breakfast and as a snack. As usual because I thought they are made with healthy ingredients (minus the chocolate) I ate way too many at one time to be called healthy. I hope you try these bars out when your looking for something a little sweet but on the healthy side as well. Enjoy 🙂

Healthy Almond butter Oatmeal Chocolate Chips Bars
1 cup natural almond butter
3/4 cup unsweetened applesauce
1/2 cup Truvia brown sugar
1 egg
1 cup whole oats
1/2 cup whole oats ground into oat flour or 1.8 oz. of ground oat flour
1/4 cup ground golden flax meal
1/4 cup coconut flakes
1 tsp. baking soda
1/2 tsp. baking powder
1/2 cup bitter-sweet chocolate chips
Directions:
Step 1: Turn on oven to 350 degrees to pre-heat. In a medium large mixing bowl beat together the applesauce, almond butter, brown sugar until creamed well. Add the egg and beat well.
Step 2: Stir in the remainder of the ingredients until mixed well. The mixture should be thick.
Step 3: Spray a 9 X 13 inch pan with cooking spray or line the pan with parchment paper. Spread the oatmeal batter into the pan. Bake for 25 minutes or until a tooth pick or cake tester comes out clean. Cool in pan and cut into about 20 bars.
Nutrition Facts
Servings 20.0
Amount Per Serving
calories 120
% Daily Value *
Total Fat 4 g 7 %
Saturated Fat 2 g 10 %
Monounsaturated Fat 0 g
Polyunsaturated Fat 1 g
Trans Fat 0 g
Cholesterol 9 mg 3 %
Sodium 73 mg 3 %
Potassium 82 mg 2 %
Total Carbohydrate 17 g 6 %
Dietary Fiber 3 g 10 %
Sugars 6 g
Protein 4 g 8 %
Vitamin A 0 %
Vitamin C 3 %
Calcium 2 %
Iron 4 %
* The Percent Daily Values are based on a 2,000 calorie diet, so your values may change depending on your calorie needs. The values here may not be 100% accurate because the recipes have not been professionally evaluated nor have they been evaluated by the U.S. FDA.