On a whim I volunteered to make some treats for my daughter's band. Each week when they have to play for a football game they are fed dinner and treats by different parents and some local churches volunteer too.  I made some cookie bars last year and so I thought  I wanted to try to make some cute Halloween cupcakes since the holiday is just around the corner and I keep seeing really cute ideas on Pinterest.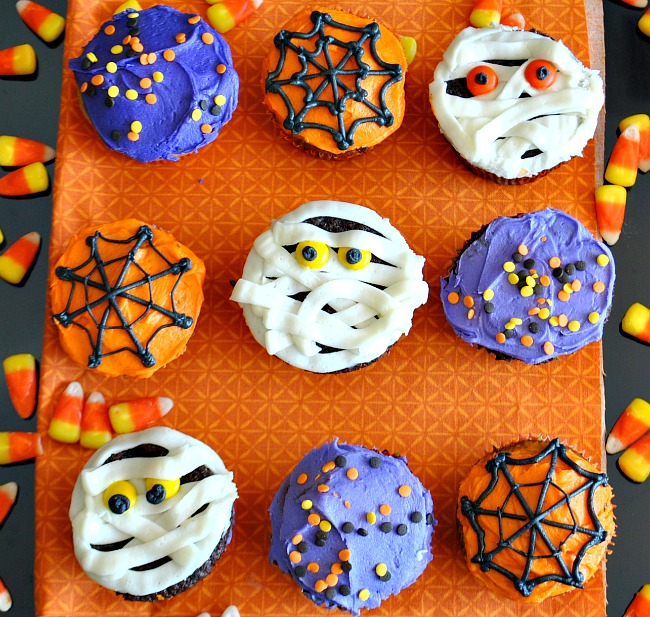 I made about 75 cupcakes without even planning it out(kinda how I do things),the only thing I had to get my hubs to pick up on the way home were eggs. I keep things pretty stalked when it comes to baking. After baking the 4 different flavors of cupcakes one night, I planned on decorating them the next day and then dropping them off when I pick up kids from school. I had 2 cake mixes so I used those for a red velvet cupcake and a vanilla cupcake. The other two I made from scratch and one was pumpkin and the other chocolate which both recipe you can find here on YMT. I decided that a cream cheese frosting would be good and tint well so I used the recipe from my Italian Creme Cake. The cupcake designs were not my original ideas, I pinned them from pinterest and you can look at them here on my Halloween ideas board.
Now for the decorating, that is the fun part and I as usual thought it would take me no time to frost and decorate 75 cupcakes. Well, I barely finished in time to take them to school it took 2/1/2 hours and I know how to decorate, so if your more of a novice give yourself more time than you think you need. I planned on doing 4 designs but my time crunch left me frosting purple cupcakes and adding sprinkles, which is one of the school colors.  Okay, since I really wasn't planning to make this a post I didn't go through all the steps to decorate but you can easily follow the drawing and directions from the photo below for the spider web, skeleton face and mummy.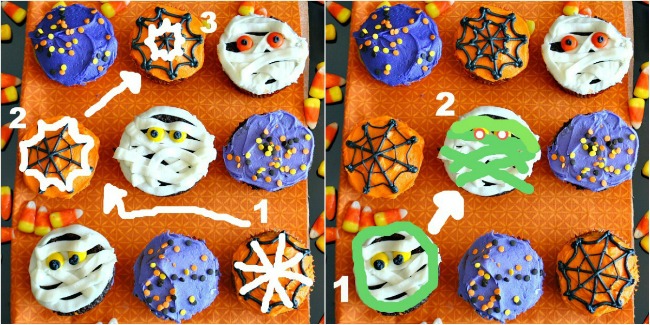 Frost the cupcake the color you choose, then make and X and then again so your cupcake looks like asterisk.
 Now just connect each end of the asterisks by making a upside down C.
Repeat the upside down C in closer to the center and your done. I used tip #4 and sometimes tip #2 to go around the middle of the web. If you want you can just do a circle to connect the web on the inside of the web.
The mummy cupcakes are very simple too.
Do not frost the chocolate cupcake first like the other cupcakes.
With #104 or rose tip draw a circle around the cupcake keeping the tip at a 45 degree angle.
Then make random strips across the cupcake, leave room for M&M eyes, put down the eyes then,
Make a strip across the top of the eyes to secure and look like the mummy is peaking out.
Finish off with black dots in the middle of the M&M candy with the black frosting using the #4 tip.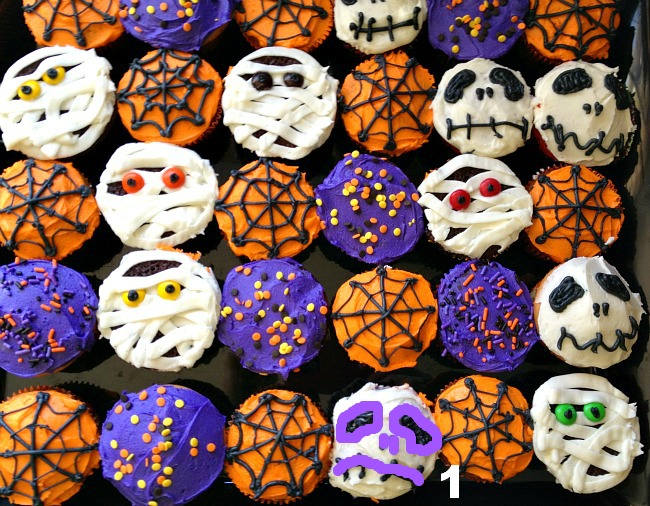 The skeleton looking face was really easy and I just free handed it.
 Frost cupcake white, then with a #4 tip I simply drew a straight line for the mouth and sometimes squiggly then I drew kidney shaped eyes and little strips for the nose. I then filled in the eyes and made slashes on the mouth and that's it.
I used Wilton brand tips that are available at places where they sell cake supplies like Michael's and Hobby Lobby. I also use their washable plastic decorator bags, and couplers. If you are not at all familiar with any of these products try looking on Wilton.com they offer classes in many different places if you are interested in learning to decorate.
I was so glad to be able to share these cute little cupcakes with you, at first I had only taken iPhone pics as you see with the one that has the skeleton faces on it, because I didn't have enough time for photos. Then my daughter brought home some leftovers, that was really nice, I now could take a few pictures that I thought were better than the hurry take a photo from my phone photo.
Have a great Halloween.