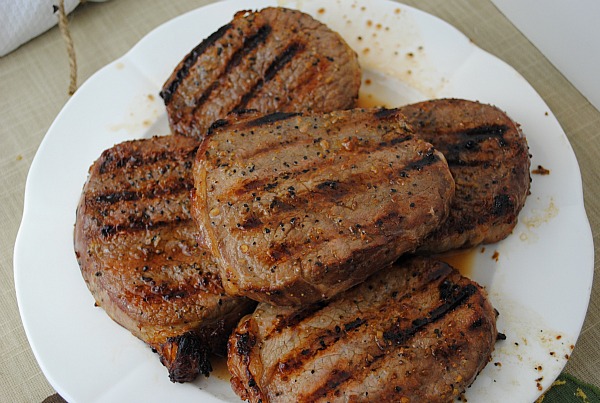 Oh I wish I had a better photo of these steaks but my family was about to eat my arm off when I told them that I was  going to take pictures for the blog.  Steak is my hubby's favorite meal probably like most men, and my kids think they have died and gone to heaven when they find out we are grilling steaks.  The hubby does the grilling in our family so I'm sharing with you what he does to make his steaks to die for.  Each grill is different so you may need to play around with grilling time and heat settings, it also depends on the cut and thickness of the steak.  These are round steaks which are normally not very tender because of the lack of fat marbling in the meat. One way to make steak more tender is to marinate it.  The longer meat is marinated the more it breaks down the flesh or tenderizes it.  For thick steaks marinating can be done longer than for thiner cut steaks.  If time is an issue then using a meat tenderizing tool can help to break down the fibers to tenderize.
Marinade:
1/2 c. Worcestershire
1/2 c. low sodium soy sauce
Montreal seasoning
Butter
Preparing the steaks:
Step 1: mix soy sauce and Worcestershire sauce together,  put steaks in 9X13 pan and spoon sauce mixture over both sides of each steak..
Step 2: sprinkle the Montreal seasoning generously on both sides, cover steaks and refrigerate over night up to 24 hours.
Directions for gas grill:
Step 1: Turn on grill to high and let heat up for 10 min.  Brush grill with metal brush if needed.
Step 2: Spray grill grates with cooking spray put steaks on the grill then turn heat down to medium high.  For the pretty criss-cross grill marks on the steaks turn steaks quarter turn after grilling 5 min.
Step 3: After another 5 min. flip steaks over and  put a pat of butter on each steak and repeat above step for grill marks.  Pull steaks off grill and let set for 10 minutes for juices to redistribute.
Grilling Tips:
As tempting as it may be to cut into steak while it is on the grill to test for done-ness DON'T DO IT or you will end up with a dry steak.
Use a water bottle for any hot spots you might have.
Wire brush grill while its hot then oil it (pump oil sprayer works great or can use cooking spray) before and after you grill.