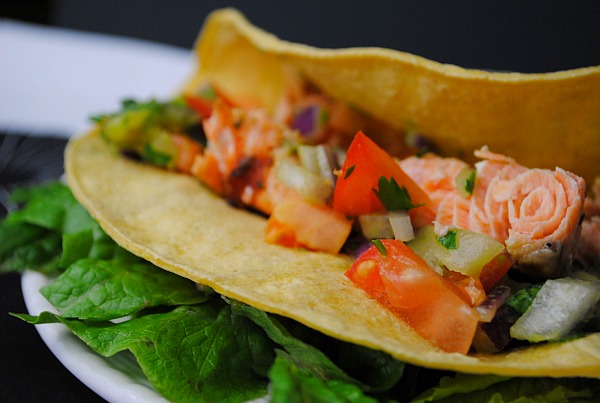 Salmon is a great flavorful fish.  If fish isn't a favorite food but you know fish oil is important for your health try using salmon. I have to admit eating fish has grown on me over my life.  I hated it growing up except for salmon because it didn't taste real fishy to me like trout for example.  After deciding salmon was okay I moved on to halibut, then red snapper, and catfish, bass, and almost any kind now.  The thing about fish is it will take on the flavor of what you use to cook it with quite easily.  Marinating fish can really change the flavor like tilapia, read my story on that one.   I still don't cook it a ton but every now and then I get the craving and buy some fish.  I prefer not buying the farm raised kind except for catfish.  Catfish caught out of the lake taste like dirt to me probably because they are trash eaters, I know I just ruined your desire to eat catfish now.
About buying fish– 1)if it smells like a fish leave it and 2) if the eyes are cloudy leave it, it's not fresh.  The freshest fish should not smell fishy.  Most fish come without the bones in it, since I'm not a fisher-woman I can't tell you how to fillet a fish nor would I want to do it either.  If you mess up your fish not to worry cats usually love it and some dogs too!  Well on to the recipe, hope you enjoy this pretty tasty grilled salmon taco recipe.
Ingredients:

1 pound raw salmon
1 bunch fresh cilantro leaves
2 cloves of garlic pressed
oil
sea salt
cracked pepper
1 lime juiced
Marinate Fish:
Step 1: pressed garlic cloves, chop cilantro from one bunch, juice lime.  Generously prinkle some sea salt and crack pepper over both sides of the fish.  In a plastic bag zip lock bag put fish in with the above ingredients along with 2 T. canola oil, close bag turn over sevral times and set in the refrigerator for an hour.
Avocado Salsa:
2 medium avocados
1/2 bunch fresh cilantro leaves
1 large tomato
sea salt
red onion
1 lime juiced
1 jalapeño seeded and chopped (optional)
corn tortillas or flour if preferred
Step 2: While fish is marinating make the salsa by chopping 1/4 cup of red onion, 1 large tomato and 2 avocados all about the same size.  Put all ingredients in small bowl, add half of a bunch of chopped cilantro and juice of lime.  Sprinkle sea salt and pepper to taste and stir.  Set in refrigerator until ready to serve.
Grilling Fish:
We use a gas grill and heat it to medium heat.  Prepare grill (in my grilling steak recipe there are directions on  preparing gas grill)  and put fish on being careful to keep it whole.  Each side will take about 3-5 minutes depending on the thickness of your fish.  Fish is done when it flakes away with a fork.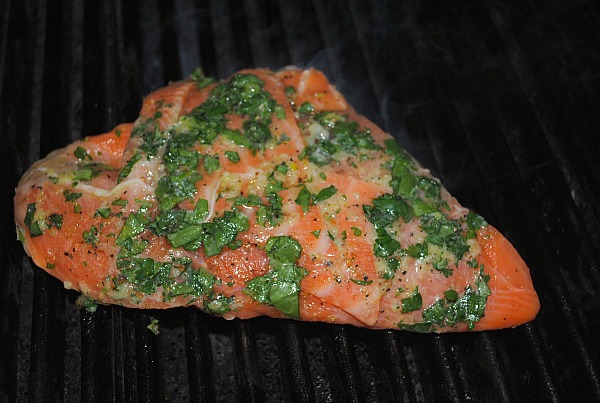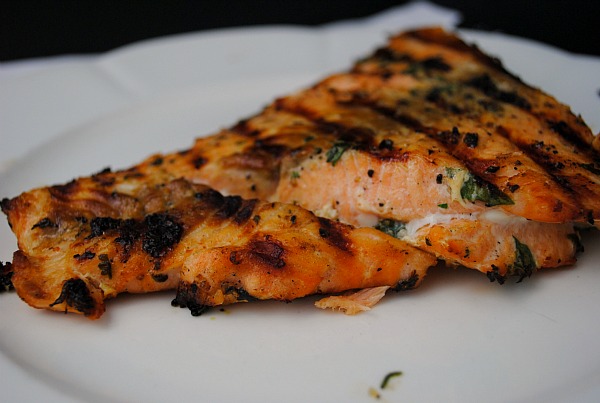 Assemble the tacos: Heat tortillas in microwave to soften. Break fish into small pieces and  put inside tortillas add avocado salsa to your liking, and enjoy!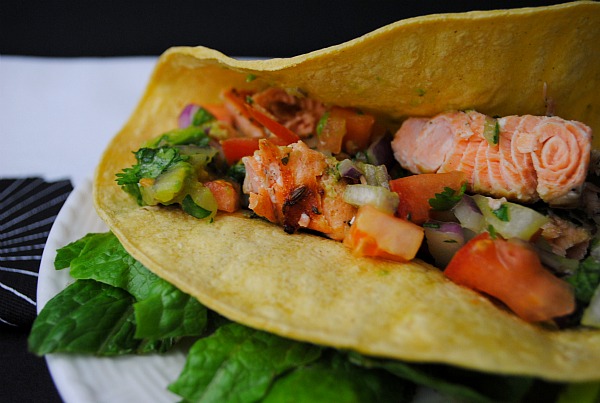 Linked to: