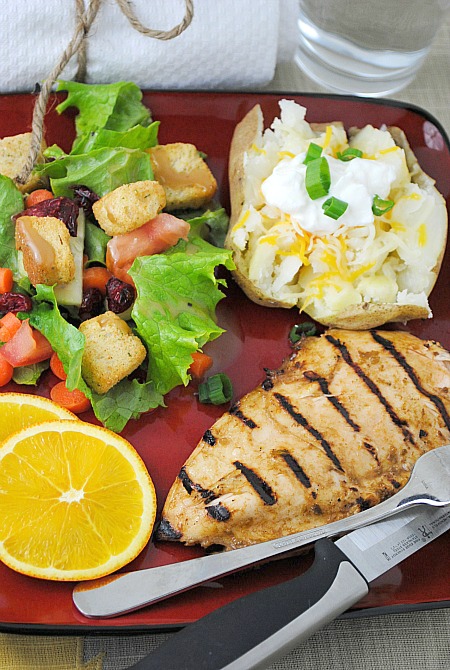 Grilling meats can be a healthier way to eat and a tasty way too.  I prefer grilling meats verses frying or baking.  We eat lots of chicken so I'm always looking for a new way to marinate the meat.  I got a bunch of oranges the other day from some friends, I needed to use some so I made this marinade for my chicken and it turned out really good.  The chicken had a nice citrus taste but not overpowering.
Grilled Orange Chicken
Ingredients:
juice of 1 orange
zest of 1 orange
1 T. balsamic vinegar
1 T. canola oil
1 garlic clove pressed
marinade is enough for 2 chicken breast.
Directions:
Step 1: Mix all ingredients together.  Put chicken in a zip lock bag, pour marinade over and close zip lock and put in the refrigerator from 4 to 12 hours.
Step 2: Turn gas grill on high to warm up.  Put chicken on grill then turn heat down to medium let cook about 5-7 min. depending on the thickness of chicken then flip over and cook another 5 min. Take off and enjoy ;)