Pin It
I love grilled fish tacos, they are light on calories and high on nutrition and oh so tasty if seasoned well.  Mahi Mahi fish is the star of this taco but without the avocado cilantro lime sauce its just any ole' fish taco, the sauce really makes these special so don't make them without it.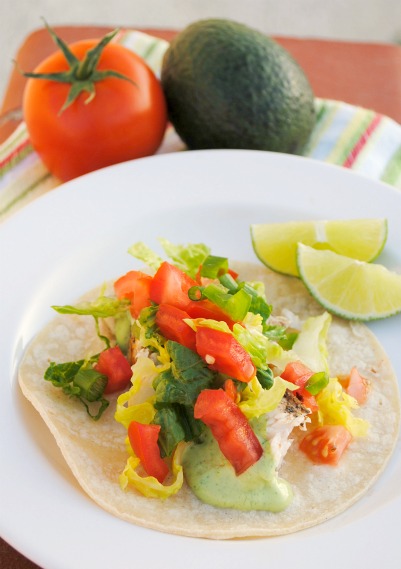 Grilled Mahi Mahi Fish Tacos with Avocado Cilantro lime Sauce
Marinade for Fish
Ingredients:
5 Mahi Mahi filets about 5 oz. each
2-3 garlic cloves
2 tangerines juiced
2 T. Olive oil
1 T. Mrs. Dash Spicy Blend
1 tsp. sea salt
Directions:
Step 1: Put Mahi Mahi filets into a shallow dish or zip-loc plastic bag and add all the ingredients of the marinade into it and refrigerate for 4-6 hours.
Avocado cilantro dressing:
1 ripe avocado
1/4 of bunch of cilantro leaves
1 lime juiced
2 T. light sour cream
1/2 fresh jalapeno with or w/o seeds (depending how much heat you want)
buttermilk to thin
1 tsp sea salt
2 T. chopped green onion
1 clove of garlic
Directions:
Step 1: In a blender or food processor put all ingredients in and turn on to mix, add buttermilk until it you get a nice pouring consistency. Taste for salty-ness and heat and make adjustments. Its easier to add more heat and salt then to take away. If it is too salty or too spicy try adding more sour cream, avocado or buttermilk to achieve the right taste for you.
Grilling the Fish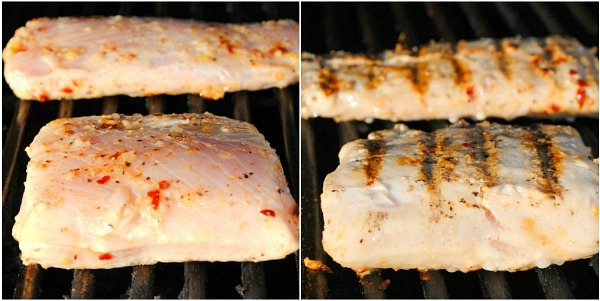 Directions:
Step 1: Turn your gas grill on high to get it hot about 5 minutes. Then take the filets and lay them on the prepared grill and turn down the heat to medium-low and close the lid.  Depending on the thickness of the filets grill about 4-5 min. on each side, carefully turning so the fish does not fall apart.
Serving the tacos:
Slice 2-3 tomatoes
Slice 1 head Romaine lettuce thin
Slice 1 lime into wedges
Heat 10 corn tortillas in microwave or oven covered so they are pliable
Put  piece of fish in the middle of tortilla, add sauce and lettuce, tomato and a squeeze of lime and enjoy!
Serves: 8-10