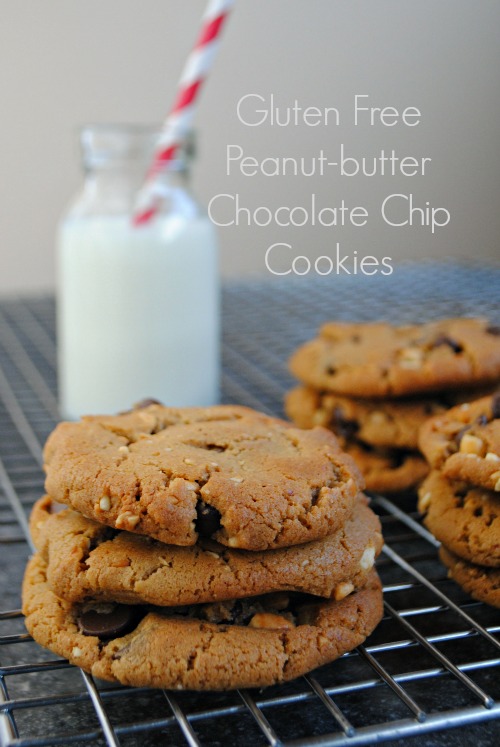 Don't be scared off by the term here "gluten free" these cookies are seriously good and they happen to be gluten free if you are needing to cut out the gluten in your diet.  In case you didn't know gluten is found in wheat products or all purpose flour and many people are allergic to it.  If you are allergic to gluten then it can or usually does cause stomach or intestine trouble. Anyway, I made a similar cookie recipe for my mom when she was watching her gluten intake and I wanted to make the recipe again but couldn't find it.  I remembered my friend Lisa over at Parsley Sage & Sweet posted a recipe awhile back. Turns out Lisa adapted her recipe from Sweetie Petitti but Lisa made hers over the top with a luscious cinnamon cream filling sandwiched between the cookies. I didn't have the time for the cream filling and justed wanted the cookies so I made her recipe only using crunchy peanut butter instead of creamy and less chocolate chips.  The cookies were amazing and peanut-buttery good, we loved them!  These cookies are really simple to make and only make about 16-17 cookies which is perfect for a craving, you will be in and out of the kitchen in no time.  If you have a large family they might be a little upset that this recipe only makes 16 cookies so in that case you should probably double the recipe. I hope you try these cookies out soon and just don't mention to your family or friends they are gluten free and they will never know, I promise :).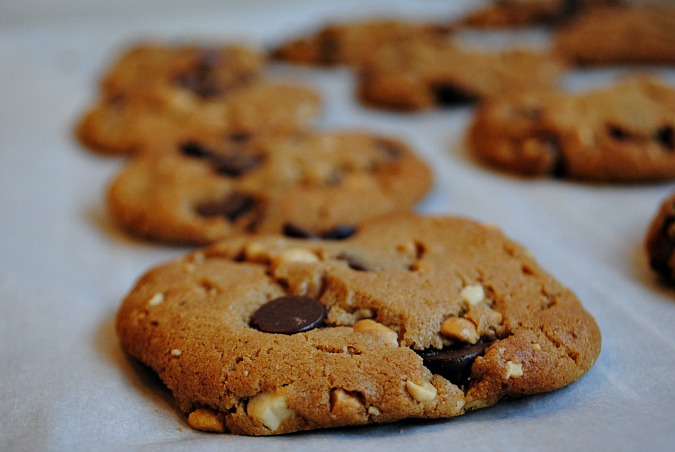 Gluten Free Peanut-Butter Chocolate Chip Cookies
Ingredients:
1 cup crunchy peanut-butter
1 cup light brown sugar
1 egg
1 teaspoon baking soda
1 teaspoon vanilla extract
3/4 cup semi-sweet chocolate chips
Directions:
Step 1: Preheat oven to 350 degree F. Line two cookie sheets with parchment paper or silpat.
Step 2: Mix all ingredients together except chocolate chips until combined well. Then fold in the chocolate chips.
Step 3: With a cookie scoop or large tablespoon get a scoop of dough and roll into ball and place on cookie sheet. Flatten down with hand or bottom of drinking glass. Bake for 10-12 minutes until lightly browned. Let cool in pan for 5 minutes then transfer to cooking rack.
Yields: 16-17 cookies, store cookies in airtight container.