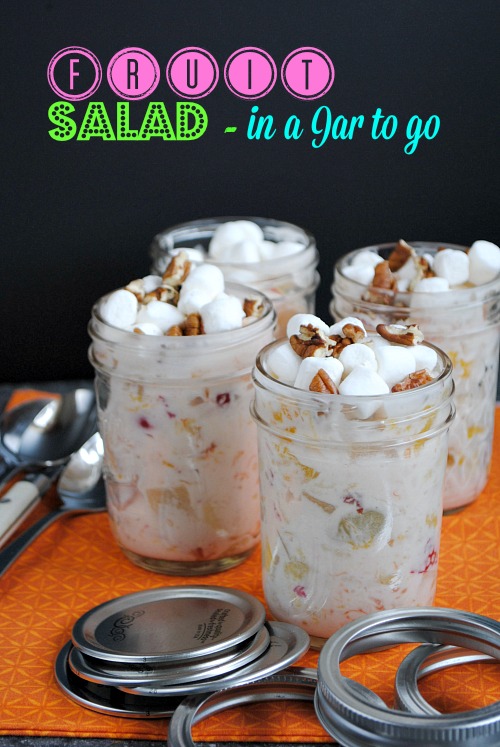 Need something quick but tasty to take to a BBQ or picnic, who doesn't like fruit salad? Most people love a good fruit salad and what a great way to take it to a party in individual portions. Just fill half pint or pint size jars put the lids on and toss in a cooler and you're ready to party. I have an easy sauce for your fruit salad, I like to use equal parts flavored yogurt and whip cream or cool-whip which ever you have.  For a small salad like the one in the picture I used 4 oz. of each.  I use whatever fruit I have, sometimes the frozen variety and sometimes not.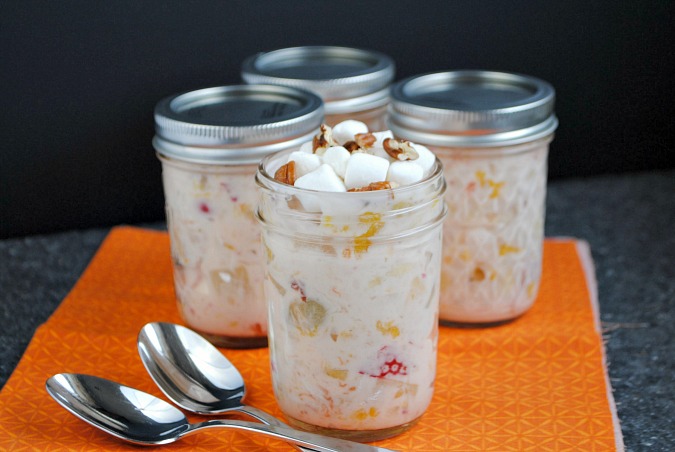 Fruit Salad-in jars to go
Ingredients:
1 14 oz. can of fruit cocktail drained or all fresh fruit if you have it
1 bananas chopped
4-5 fresh strawberries chopped
1 orange peeled and chopped cite size
1/2 large apple chopped bite size
4 oz. flavored yogurt of your choice
4 oz. cool whip or whipped cream
mini marshmallows
nuts (I use pecans or walnuts)
5 pint size jars with lids
Directions:
Step 1: Open canned fruit and drain, slice banana and strawberries, orange, and apple and put in a medium size serving bowl.
Step 2: Fold in the yogurt and cool whip or whipped cream with the fruit. Fill jars add marshmallows on top and nuts if desired, put lids on a refrigerate until ready to serve. Enjoy!