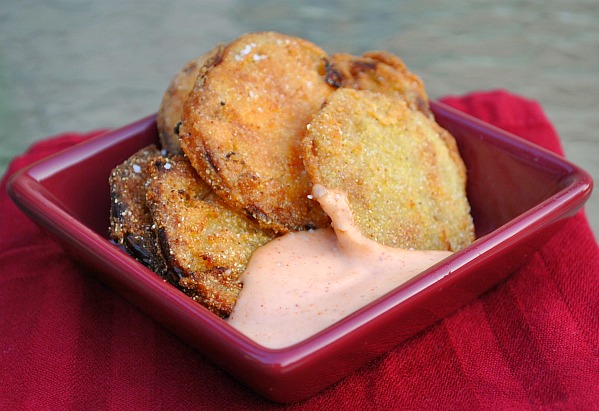 So who likes a fried green tomato?  What you haven't tried one…then you must do it ASAP it's one of those foods you need to try before you die, type of thing.  I know your wondering… where to get the green tomatoes, well you may have to grow them yourself but you could also ask your local produce person if they ever get green tomatoes and I bet the answer is yes.  I got these beauties from my garden and they were scrumptious let me tell you. Now, you want to know what they taste like, the good ones (made correctly) taste a little sour but in a good way and if fried just right they are crunchy on the outside and soft on the inside. I crave these little green goddesses now thanks to living in the South where I was first introduced to them.  I know these green tomatoes are appetizers but I'm thinking BLT (bacon, lettuce, green tomato sandwich) sounds mmm…good,  I really need to try that out, like soon!
While we  are on the topic of fried green tomatoes does anyone remember that movie Fried Green Tomatoes?  What… your too young to remember it, then get it at netflix it's a great chick flick :).  While I loved the movie I thought  fried green tomatoes did not sound appetizing. Lucky for me I decided to do a post on  a local restaurant that is called non other than "The Green Tomato" and they re-introduced me to these little delicious appetizers.  You see, I had tried fried green tomatoes once before but they were soggy and bitter so I thought all  fried green tomatoes tastes like that, but not so.  These green tomatoes were crispy and crunchy with a light batter and they had a great dipping sauce.  While I was doing my visit with the owner of the restaurant I was hoping he would share his secret about making the little  fried green tomatoes and special sauce, but that didn't happen, so what's a girl to do? Experiment of course with making my own 🙂 I went to the foodnetwork for some help and found that Tyler Florence had  a recipe that looked similar to what I might have had, so I tried his.  They were okay, but they needed some more flavor or kick so I used his base recipe but added some other spices plus I made some pretty good dipping sauce to go with it. If you have a garden of tomatoes then grab a few green ones and try these out, I know you will like them.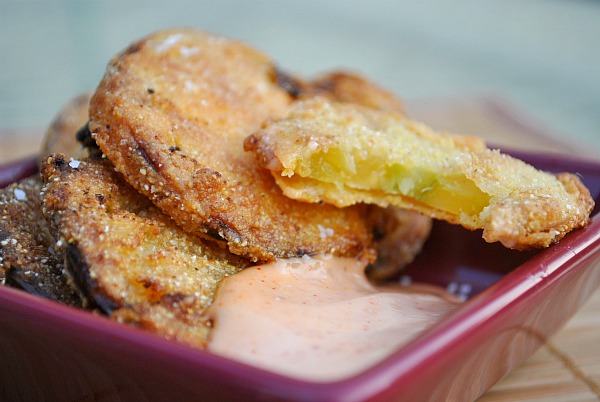 Have I got you convinced yet that you need some fried green tomatoes in your life?  If your interested in the recipe you will have to go over to The Mother Huddle where I posted the complete recipe and directions.  While your there you might want to check out some of the great sewing tutorials or craft ideas. Thanks for stopping by, hope you enjoy the recipes.