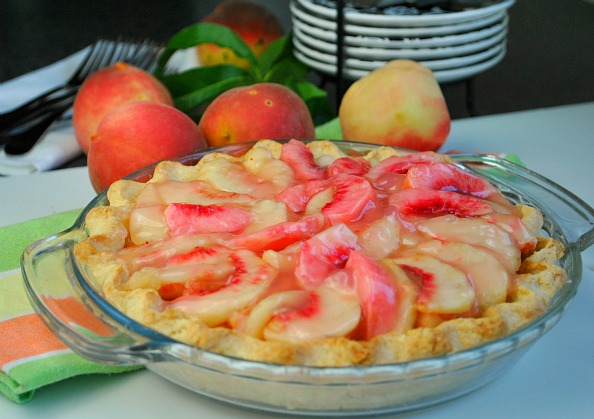 Guess what?…we have a nectarine tree, and when we planted it about 5 years ago we didn't know that the fruit would be white, but it is :).  It is very similar to white peaches but the taste is a little more mild than a peach is.  The fruit is large and we have started to get loads them on the tree, I am excited to use my nectarines so here is the first of the recipes to come for this year. I made this recipe almost like my sister-in-laws peach pie recipe but with less sugar and less cornstarch which made the glaze less thick.  The crust recipe I used was from The Pastry Queen cookbook and it turned out to be a nice crust.  The crust recipe could be used on a large deep dish pie dish, my pie dish was a regular size 9 inch glass pan and the crust was thick with some sizable leftovers. If you don't have white nectarines then regular nectarines will work just fine or fresh peaches.
Fresh White Nectarine Pie
Basic Pie Crust:
2 cups all-purpose flour
1/2 tsp. salt
2 T. sugar
2/3 cup of chilled unsalted butter or 11 T.
4-5 T. of ice-cold water
Directions:
Step 1: In a large food processor put flour, salt and sugar in and give it a pulse to mix the dry ingredients.
Step 2: Add the chilled butter to the food processor and turn on until the crumbs are very small.
Step 3: Get ice water ready by filling a measuring cup with water and ice, then measure out 5 T. of water into another measuring cup.
Step 4: Turn processor on and add the water through the top. Turn the processor off when the dough starts to ball up. It may not ball up it may just be in bigger balls and that's fine.
Step 5: Dump the dough out onto the counter and press the dough together to form a round ball. Wrap in plastic wrap and refrigerate for 30 minutes.
Step 6: When the dough has chilled long enough take out and let sit for about 10 minutes, then on lightly floured surface roll out into a round circle big enough for your pie pan.
Step 7: gently roll crust onto rolling pen and unroll over pie pan, or fold the crust in half and gently unfold onto pie pan. Trim edges of pie crust then, crimp edges the way you like with fingers or a fork. With a fork prick holes in the crust and bake in pre-heated oven at 375 degrees for 25 minutes or until light browned. Cool crust completely before filling with pie filling.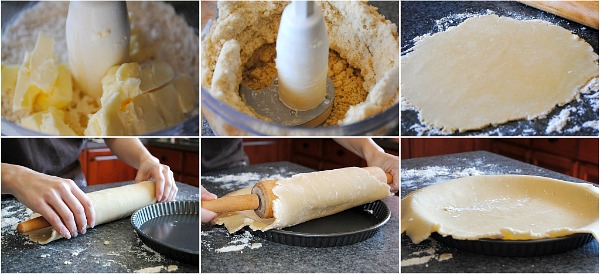 (the above photo is an example of how to make the pie crust it was not my actual crust for this pie)
Ingredients for Pie Filling:
6-7  fresh nectarines depending on the size, more if small, peeled & sliced
1/2 cup sugar
1 cup water
2 T. peach or orange jello un-cooked
2 T. cornstarch

Directions:
Step 1: Cook water, sugar,jello, and cornstarch in medium saucepan until thick.
Step 2: Cool filling then put a layer on the bottom of the pie crust.
Step 3: Add a layer of nectarines then filling until you have 3 -4 layers , then refrigerate until cold.

Try out these other great recipes with nectarines
Fresh Glazed Nectarine Pie by Salad in a Jar
Nectarine and Peach Cobbler by Simply Recipes
Upside Down Nectarine Muffins by Eating Well
White Nectarine Ice-cream by You Made That?