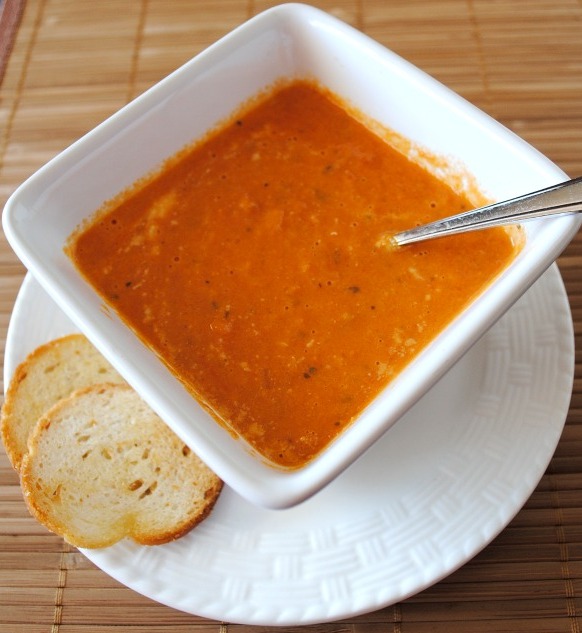 I saw a recipe for fresh tomato soup about a month ago and knew I wanted to make my own. I had never made tomato soup before but how hard could it be. Tomato soup is one of my favorites especially with a grilled cheese sandwich on a chilly evening or on a rainy day. We are finally having some of those chilly rainy nights so this light dinner was perfect. I think it turned out really good and it wasn't hard at all so try it out for yourself.

Fresh Tomato Soup~Italian style
Ingredients:
6 fresh tomatoes
1 onion chopped
2 celery stalks chopped
1 cup of carrots chopped
1 can 28 oz. of crushed tomatoes
2 T. of tomato paste
2 cups water
1 bay leaf
1 tsp. garlic powder
1 tsp. basil
1/2 tsp. sea salt
1/2 tsp. oregano
1-2 T. olive oil
1 tsp. of chicken boullion base or granules
1/2 cup of heavy cream
Peccorino Romano cheese or Parmesan
Directions:
Step 1: First heat water in a large pot until it boils and put the tomatoes in for about a minute. Use a slotted spoon to take out, put into a bowl of cold water and peel skin off. Core and chop tomatoes and set aside.
Step 2: Chop onions, carrots and celery. In a large pot heat 1-2 T. of olive oil on medium high and cook onions, carrots and celery until they are soft. Add the rest of ingredients except cream and cook until it boils then simmer for about 45 min. with lid on, stirring occasionally.
Step 3: Take out bay leaf and use immersion emulsifier or blender to blend soup until smooth. When all of the vegetables have been pureed add 1/2 cup of cream to soup and blend well.
Serve: hot with peccorino romano cheese on top (this really makes it taste good) and garlic bread or grilled cheese sandwich.
Makes: 8 servings