Pin It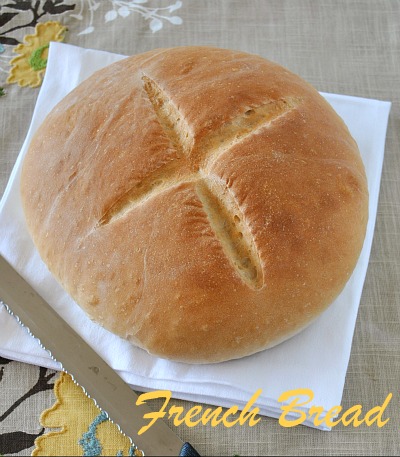 Ever since I made the rocket rolls I haven't been able to stop thinking about homemade bread. It's been on my brain non-stop so I wanted to share this wonderful recipe for french bread. This bread is so soft, and has a tight texture, it's more dense than the typical store bought french bread but it has that slightly sour flavor. It goes wonderful with pretty much any meal or all alone. Bread making can sometimes be tricky to get just right but this simple french bread will have you feeling great about your bread making skills. I use a stand mixer with a dough hook to knead my bread but you can make this bread by hand it just take a bit more muscle. If you need to learn some techniques on kneading bread by hand then check out this "kneading dough:how to tips",  I found it helpful. I made this bread into a round loaf but feel free to make it into the traditional oblong loaf. A friend of mine gave me this recipe and I'm not sure where she got it from but I do know it's one of the best french bread recipes I've eaten or made, so enjoy it.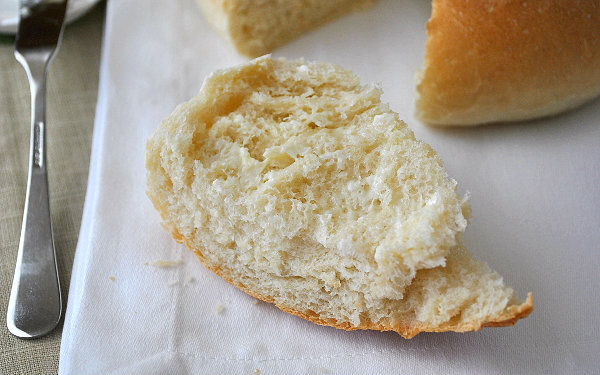 French Bread
Ingredients:
1 1/4 cup warm water (296g)
1 T. yeast (10g)
1 1/2 T. sugar (20g)
3 cups bread flour (483g)
1 1/2 tsp. salt (8g)
1/8 cup oil canola or a mild oil(30g)
Directions:
Step 1: In a mixing bowl of a stand mixer put warm water in bowl and add the yeast and sugar, let sit until the yeast bubbles up or proofs for about 5 minutes.
Step 2: After yeast proof add the remainder ingredients all at once and mix on stir of a stand mixer for about 4-5 minutes. until the dough is balled up on the dough hook and soft and silky looking.
Step 3: Put the dough in a greased medium bowl and put a tea towel over the bowl, let rise in a warm place until doubled about an hour.
Step 4: Punch down dough, then dump the dough out on a lightly floured surface and roll out with rolling pin into a rectangle then fold over length wise then width wise and push down with heel of the hand. Gather up dough and tuck the dough forming a nice round ball. Put the dough ball on a cookie sheet lined with parchment paper or silicone baking mat or just spray the cookie sheet with cooking spray. Cover dough with the tea towel and let rise about half an hour, the dough should not double.
Step 5: Pre-heat oven to 350 degrees Fahrenheit. With sharp serrated edge bread knife gently make an X on top of the dough. Bake bread for 25-30 minutes until it is browned. Let cool then gently cut into wedges.
Makes: 1 loaf, can double for 2 loaves.