Christmas is coming and that means gift giving.  How many of you like to give homemade gifts for Christmas? Me, me, me so here is what I came up with for you.  You can right click on the image of the recipe save it to your computer and then print it out or go to the bottom of the post and click print.
Hot Fudge Sauce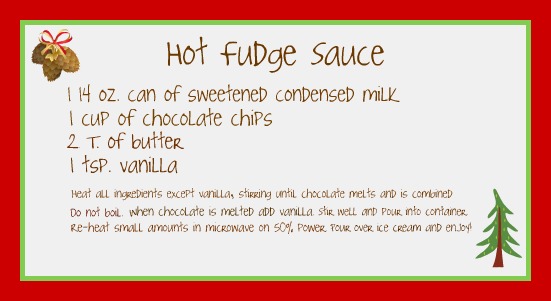 Give this hot fudge with maybe an ice cream scooper to encourage them to try it on their favorite ice cream, by the way it's pretty good too.
Jalapeño Jelly
Pepper jelly is a great jelly to have on hand for dipping sauce for chicken strips, or for putting over cream cheese and eating with crackers.  My friend Aubrey and I made the pepper jelly during the summer but just used the standard box recipe, I found a few other recipes that you may like better you can click here for fun looking Christmas type or here for an all natural one using no food coloring or pectin.
Peppermint Cocoa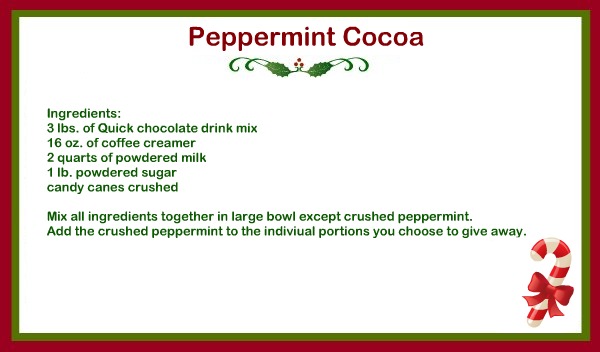 Wondering how to put the word COCOA on the glass jar its easy, I went to Hobby Lobby and bought  rub on letters in the sticker section, super simple.
Chocolate Cover Peanut Butter filled Pretzels
Need something yesterday then these are it, found these little nuggets at my Sam's club and it was a no brain-er for me, just melt chocolate and dip these guys in because everything taste better dipped in chocolate.  Put the pretzels in a clear cellophane bag tied with a ribbon and instant cute.
Homemade Flavored Vinegars
These vinegars are so simple and easy to make and they looks so pretty too.  Tie a ribbon with your favorite salad recipe or other use for these vinegars and viola!  The Mother Huddle has my recipe for these vinegars so check them out.
If you need more ideas check out this link at Skip to My Lou you won't be disappointed.
Happy Holiday~enjoy the food, family and friends.
This post is linked to: