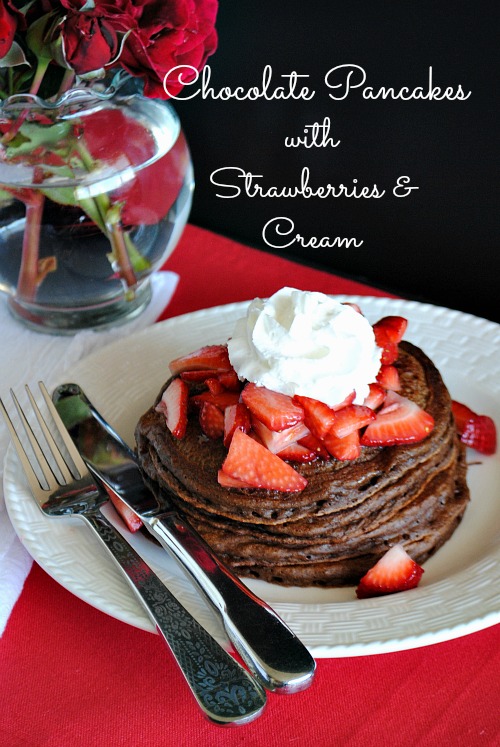 Chocolate pancakes with chocolate chips, strawberries and whip cream are like heaven for me. I'm the kind of girl who can eat this for any meal especially since I'm a lover of all things chocolate. Well, maybe not all things chocolate because chocolate cover bugs don't tempt me at all but if I had to eat them getting them down with chocolate would definitely help. I made these pancakes especially for the chocolate party that I am part of each month. We get to make a chocolate recipe of our chosing with a different secret ingredient each month, for May it was strawberries. In my opinion strawberries go perfectly with chocolate because strawberries are not super sweet,  they  lend  the  wonderful berry flavor to the chocolate and it makes a wonderful marriage that I can't resist. I love to make chocolate cake with strawberry filling and chocolate dipped strawberries on top, it never ceases to wow everyone. I hope you give these double chocolate pancakes a try and load them up with lots of strawberries and cream, you deserve a little bit of heaven today.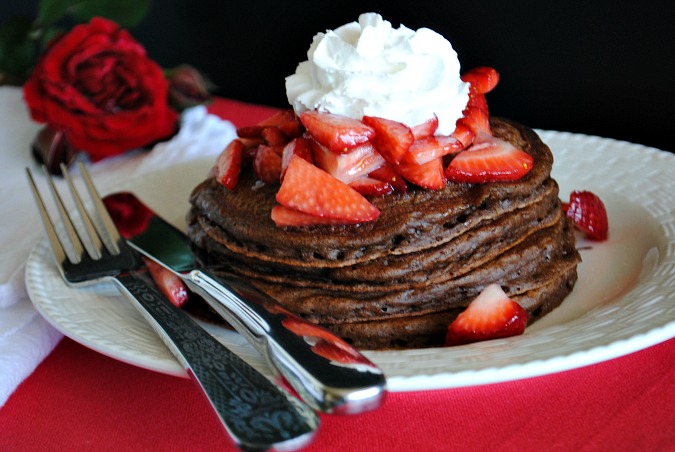 Double Chocolate Pancakes with Strawberries and Cream
Ingredients:
1 pint of fresh strawberries
1 cups of all purpose flour
1/4 pastry wheat flour
1/4 cup unsweetened cocoa powder
1 tsp. baking soda
1 tsp. baking powder
2 T. of flax meal
pinch of salt
1 egg beaten
1 1/2 cups of buttermilk (if you want thinner pancakes you may add a little more buttermilk)
2 T. melted butter
1/4 cup sugar
1/2 cup chocolate chips (optional)
Directions:
Step 1: Wash and hull about a pint of strawberries, then slice. Put in to a small bowl and toss with about 1 tablespoon of sugar, set aside for later.
Step 2: In a medium large mixing bowl sift together the flours, cocoa powder, baking soda, baking powder, and salt.  Whisk together flax meal with the flour mixture.
Step 3: In a smaller mixing bowl whisk the egg and add the melted butter to the egg. Stir in the buttermilk and sugar.
Step 4: Add the wet ingredients to the dry ingredient and whisk until most of the big lumps are out. The batter will be thick and slightly lumpy.
Step 5: Heat a large griddle pan and spray with non-stick cooking spray or melt butter on top. Pour batter onto hot skillet into the size of pancakes you prefer, then add a few chocolate chips on top of each pancake. Watch carefully and when the sides begin to tighten up with a large spatula check the underside by lightly lifting one side up to check for a light brown color. About 2-3 minutes then flip over carefully and cook the remainder of the pancake for another 2-3 minutes until done.
Serve: with maple syrup, strawberries,or whatever type of sweet thing you enjoy on a pancake, feed four people.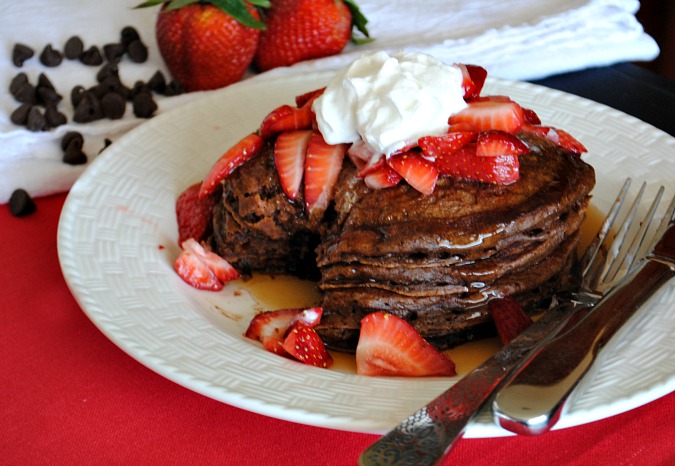 If you are interested in joining the chocolate party please just check out the rules below and don't forget to check out the other great recipes with chocolate and strawberries.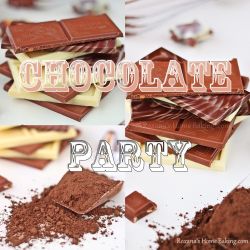 The recipe must be a new one.
The recipe must include the secret ingredient.
Include a link back to this post or the Chocolate party page. Optional, add the Chocolate Party logo in your blog post or on your sidebar.
For more information on the chocolate party check out my friend and organizer of the party Roxana at Roxana's Home Baking.
We also have a Facebook Group Page and Pinterest Group go see all the other delicious chocolate recipes and get inspired to make something sinfully good.