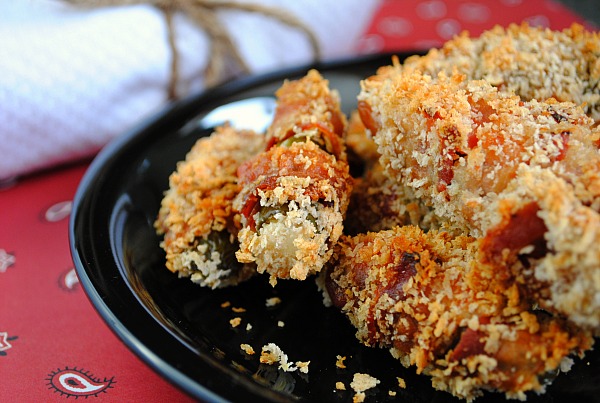 Super bowl Sunday is a fun time to break out the game day favorite snack foods.  The weather in my part of the country is getting seriously cold and I need something to warm us up and crispy bacon wrapped stuffed jalapeños certainly does the trick.  Jalapeño poppers have become quite popular so I thought I'd make them at home and get rid of the grease by baking them.  I have to admit I don't miss the grease from deep frying, I think because the bacon still gives them a little.  What  really is the difference in these jalapeños is they are super crispy due to the panko bread crumbs and the bacon. Panko bread crumbs are a light textured Japanese crumb that really gives everything breaded that extra crunch.  Using pre-cooked  bacon is the best because most of the grease is gone and it's not a big mess to clean up.  Watch out becuase these little stuffed poppers are addicting due to that  fabulous crunchy crust.  I think your guests will love these and ask for more when the last one is left.
Crispy Stuffed Jalapeños Wrapped in Bacon
Ingredients:
1  (29 oz.) can whole pickled jalapeños
1  (8 oz). package of cream cheese
Hormel brand pre-cooked bacon strips about 20 strips
1 cup of Panko bread crumbs
1/4 tsp. garlic powder (optional)
1 egg white
Tip: When working with jalapeño peppers wear gloves or wash your hands well after touching them because you don't want to rub your eye or anywhere on your face it will burn.
Directions: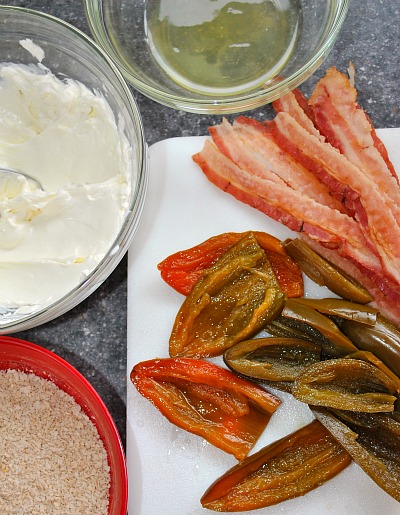 Step 1: Start by draining jalapeños and cutting lentgh whise in half and gently taking the seeds out, then rinse with water. Gather other ingredients and get ready in bowls so you can do an assembly line when done filling the peppers.
Step 2: soften cream cheese and stir and until smooth.  If you have a pastry bag and a tip with a large round hole I recommend using it for stuffing or filling the pepper halves because its much easier to work with than trying to spoon it into the jalapeño.
Step 3: in small bowl lightly whisk egg white.
Step 4: wrap each pepper half with one pre-cooked bacon piece or two if it is an extra large pepper.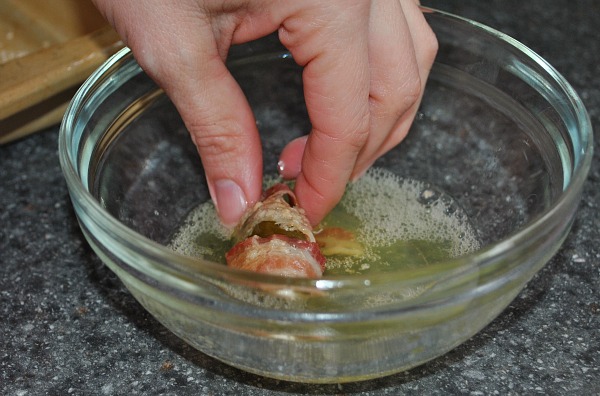 Step 5: roll the wrapped pepper in egg white, then in the bread crumbs & garlic powder and place on a baking sheet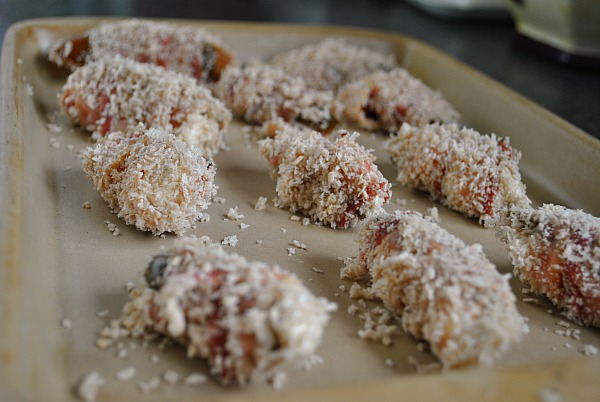 Step 6: Bake for 20 min. at 400 degrees turn half way through the cook time so both sides get nicely crisp.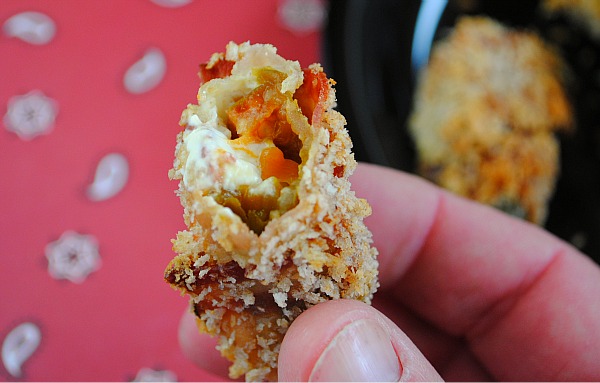 Mmmm…look at that yummy cream cheese melted with crispy bacon and hot jalapeños, can you taste it?
Linked to: Foodie Friday