How many of you like crepes but are afraid to make them?  I used to be until I tried them a few years back.  Crepes are so easy to make and they look so elegant and special.  Crepes are great filled with sweet things like fruit, cream and chocolate  or savory fillings such as chicken with white sauce and veggies. Crepes can be eaten any time of the day. My favorite type of crepes are breakfast or dessert crepes, the sweet ones, I know, no big surprise there.  Another plus for crepes they can be made ahead of time and saved for later, you can even freeze them too.   Let's get over that fear of failure and make these easy, yummy crepes.
Recipe for Crepes
2 cups flour
2 cups milk
6 eggs
1/4 cup melted butter or oil
1 tsp. salt

Directions
Put all ingredients except milk in a food processor or blender, turn on and slowly add the milk until all is mixed well. If you don't have either of those appliances then you can mix it by hand with a whisk. I like using the food processor or blender because there are no lumps of flour. Batter will be very runny. Let the batter rest while you get the filling ready.
Strawberry Filling
2 cups of fresh or frozen strawberries or berries of choice
4 oz. of cream cheese softened
1 cup of whipping cream whipped
2 T. granulated sugar
Whip the cream cheese and sugar until soft then add to whipping cream stirring to incorporate. Chop berries fine or blend or put in a food processor add to whipping cream mixture until all is incorporated.
Put in the refrigerator until ready to use.
Cooking the Crepes
I use a nonstick small suate pan but a regular size fry pan can be used. You'll need butter or cooking spray, I like the cooking spray best. Heat pan on medium to medium high heat, it may take a while to get hot for the first crepe but no rush. Add your cooking spray and 1/4 cup of batter make sure you turn your pan so the batter is spread out evenly. Let the crepe cook for about 2 minutes or until the edges dry out a bit and they start to pull away from the sides, then flip over and cook 2 more minutes. Set crepe on plate and make the rest. Here is a video from Food Network on cooking the crepe.


Hope you liked that video, now for filling the crepe and the final touches.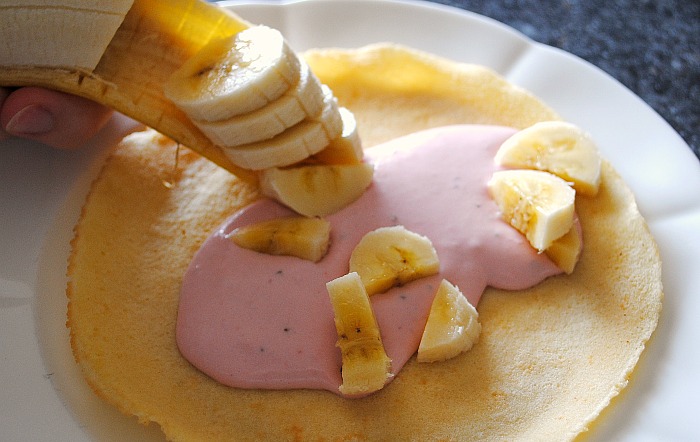 Get your strawberry cream and put a doll-up in the middle then slice about half a small banana to go inside and roll up. Melt 1/4 cup of chocolate chips and then put in a plastic disposable pasty bag and cut the end off and viola. You could also use a small plastic sandwich bag and cut the corner after it's filled with the melted chocolate. Garnish with fresh or frozen strawberries.