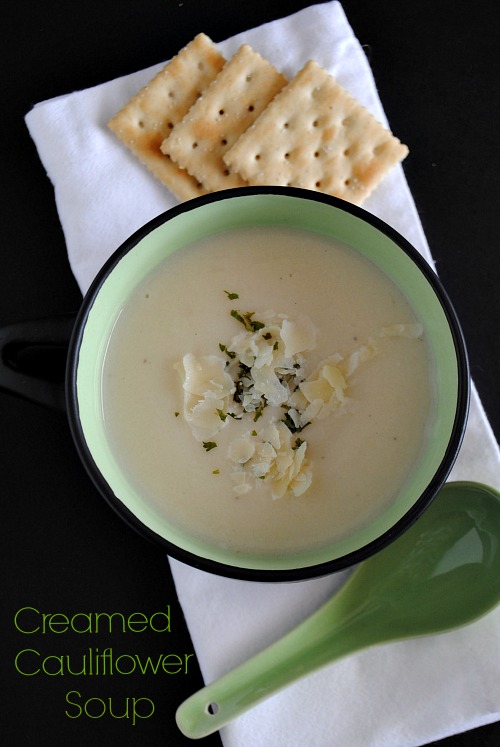 Soup is in the house, yes, that's what I'm in the mood for these days since the weather has cooled down. I recently found out that the picky eater of the family loves cauliflower…who knew. Well, I should clarify that, he likes cauliflower if you have ranch dip to dip it in. Last year I made a mixed vegetable cheese soup that I snuck in cauliflower and he ate it, so I thought let's test this further. I made this lovely white creamy cauliflower soup but didn't tell him what it was, just said dinner is ready. He looked at it and asked for something else but I didn't cave in. Nope I said he had to eat this soup and I knew he would like it, and unbelievably he did! I'm always kind of proud of these moments and wish I could record them to play over and over again.
I must say when I looked over this recipe from The Lemonade Cookbook it sounded good to me but I thought I bet it will need some cheese to give it more flavor. I was wrong about that, in a big way too, this soup is quite flavorful without cheese, and oh so creamy because of the addition of half and half and potatoes. This soup just might be my new favorite soup. The soup came together in about 30 minutes, it was delicious and not really heavy feeling but definitely filled me up. The soup would be perfect with a side salad or grilled hot sandwich but I just ate it all by itself with a couple of crackers on the side mmmmm! Hope you enjoy this one.[/donotprint
Creamed Cauliflower Soup
Ingredients:
2 tablespoons oil
1 onion chopped
3 cloves garlic pressed
1 head of cauliflower chopped coarsely, discarding the leaves and stem
2 bay leaves fresh (I used dried)
1 teaspoon coarse salt
1/8 teaspoon pepper
1 1/2 quarts chicken broth
2 Idaho potatoes, peeled and chopped (I used 1 large)
1 cup heavy cream (I used half and half)
Directions:
Step 1: In a large soup pot, add the oil and get hot on medium heat. Add the onions, garlic, cauliflower, and bay leaves, stir and cook about 5 minutes. Season with salt and pepper.
Step 2: Add the broth to the pot and turn up heat to medium high let the ingredients come to a boil. Simmer for 15 minutes stirring occasionally. Add the potatoes and continue to cook until fork tender.
Step 3: Reduce the heat and add the cream stirring gently. Work in batches and put about 2 cups of soup into a blender leaving the lid ajar slightly, put a towel over the lid and hold it with hand blend until smooth. I used the lowest setting but I do have a powerful blender. I used another bowl to put the blended soup in until all was blended. The soup makes about 8 cups.