Pin It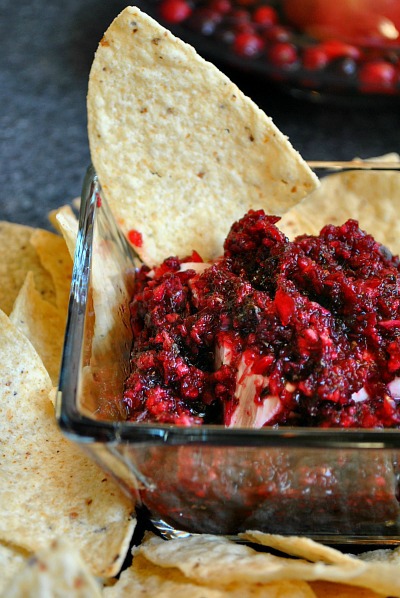 I know… I already shared a cranberry salsa recipe with you, but I couldn't resist this one because it's so tasty and completely different from the last one I shared. This is my friend Maria's recipe, although I've seen some other variations on the web lately. My friend Aubrey suggested we make this on Thanksgiving to snack on while the turkey was cooking and it was a great idea, everyone loved it. The ingredients seem like an odd mix but they really work well somehow. I think the taste got better with age (few days) but my husband disagreed, he said it tasted pickled and he hates pickles. Try this recipe out for your next holiday party or even ringing in the new year, it will get rave reviews from your family and friends.

Cranberry Salsa with Cream Cheese
Ingredients:
1 12 ounce package of fresh cranberries rinsed
1 bunch of cilantro
1/2 bunch of green onions
1 jalapeno seeded
1 cup of sugar
1 tsp. cumin
Directions:
Step 1: Put all ingredients in food processor and pulse until its chopped with no big chunks.
Step 2: Pour the chopped salsa into a medium size mixing bowl and stir in the sugar. Cover and refrigerate until read to use.
Serve: Take an 8 ounce block of cream cheese at room temperature put on a plate then pour some salsa over the top. Serve with crackers or chips. Another way to serve this salsa is; cut the 8 ounce cream cheese block in half and put each half in two different bowls then pour salsa over the top of each and serve.